Welcome Week Orientation Leaders
Every new student to Messiah College is provided an Orientation Group that, in most cases, is their First-Year Seminar class. Orientation Groups are led by Orientation Leaders and are designed to model successful academic practices and behaviors for new students, provide mutual support for new students in their transition to Messiah College, inform students about the traditions and history of Messiah College, model holistic student-centered learning practices, foster student-to-student and student-to-faculty relationships, and support the integration of students into the Messiah College community and the surrounding area.
The leaders are selected based on their prior leadership experiences, academic record, and ability to serve as a mentor to first-year students. Typically, Orientation Leaders are juniors and seniors who work closely with First-Year Seminar instructors to provide support for new students in their transition to college.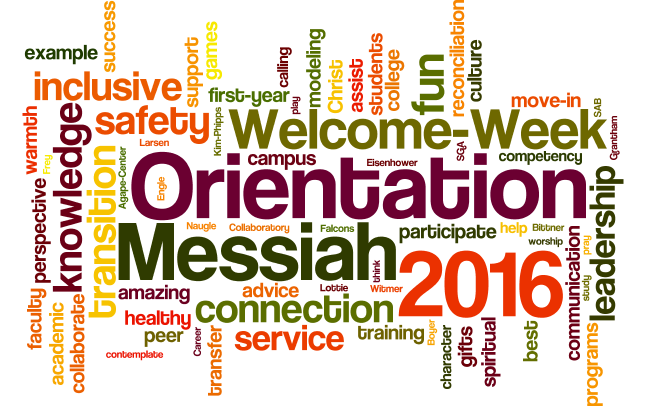 Contact Us
Contact Us
SILP@messiah.edu
(717) 796-5240
(717) 691-2377
Office Hours:
Monday–Friday | 8 am–5 pm
Mailing Address:
One College Avenue, Suite 3050
Mechanicsburg, PA 17055
Location:
The Office Student Involvement & Leadership Programs is located on the upper level of the Larsen Student Union building.