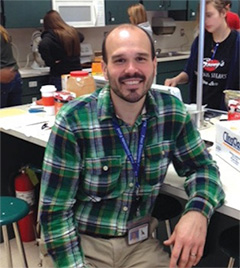 Wesley Popp '06
FCS Education
High School Family and Consumer Sciences Teacher, Susquenita School District
Wesley's Career Journey
Through his education at Messiah, Wesley learned helpful teaching skills and extensive background knowledge in families and their dynamics. After Messiah, Wesley went on to get his Master's degree in Education with a concentration in curriculum and instruction from Clarion University. With a great love of food and a deep desire to make a difference in the lives of young people, Wesley enjoys his vocation as a Family and Consumer Sciences (FACS) Teacher.

Working in Education
Wesley uses his education in family dynamics, interpersonal skills, foods and nutrition, family resource management, child development, and teaching every day as he develops his FACS curriculum, collaborates with coworkers, and communicates with students and their families.