Does Practice Really Make Perfect?
Early in his book "Outliers," author Malcolm Gladwell made the case that mastering a skill — such as playing a piano, pitching a fastball or painting a portrait — required 10,000 diligent hours of practice. For example, what made the Beatles so good? Gladwell explains the band played eight-hour sets in small German clubs for years before hitting it big, a solid block of rehearsal that honed their skills well before their first appearance on "The Ed Sullivan Show." The book's detractors, however, have spent years arguing the number is a little too convenient—and fails to address natural talent and passion.
No matter where you fall in the 10,000 hours debate, the figure does have two benefits: it dictates that mastery means working very hard, and it's eminently quotable, which makes it the go-to figure for scholars to assign some sort of measure to success. As such, we tracked down a range of Messiah experts in disparate fields and asked them a Gladwell-based question: Have you practiced for 10,000 hours to get where you are? The answer is a resounding yes—and a resounding no.
Just a second
Justus Danielsen '20 is part of the small, select group of humans who can solve an entire Rubik's Cube in 12 seconds. What's funny is, in the world of "cubers," 12 actually isn't very impressive. With some more practice, Danielsen says he hopes to be part of a group he calls "the sub-10s."
The engineering major has been cubing for 2.5 years, which, if you work out the math, isn't anywhere near 10,000 hours.
"I tried calculating," he said, apologetically, "and it's only like 1,000."
This begs the question: What would happen with 9,000 more hours of practice? Cubers practice in two ways. The first is simple solving, the classic sit-and-twist method popularized during the Rubik's Cube's debut in the '80s. Danielsen's good at that. But the other method—"slow-solving"—is a more precise, surgical approach that commands most of his daily practice time.
"It's not going for speed," said Danielsen. "It's learning techniques, memorizing algorithms. It's like a chess board."
A single pattern on the cube, for instance, can translate into a 16-move algorithm that Danielsen can burn through in seconds. Slow-solving teaches his eye to grab those patterns.
Since Danielsen is pursuing a degree in engineering, it's unlikely a Rubik's Cube career is in his future. But he will compete in this summer's national championships in Fort Wayne, Ind., where he'll fight to join the ranks of the sub-10s—at least. "I saw people online doing it in under six seconds, and I was like, 'I gotta do that,'" he said.
Composed hours
Music grad Stephen Lias '88 calls himself an "adventurer-composer," and his most recent work bears that out. In the spring, he debuted his orchestral piece "All the Songs That Nature Sings" at the Kennedy Center for the Performing Arts. Commissioned by the Boulder Philharmonic and funded by an NEA grant, the piece synchronizes Lias' compositions with lush photographs of Rocky Mountain National Park, many of which he snapped himself.
For Lias, a professor of composition at Stephen F. Austin State University, composing music began at Messiah College. As a student, he would leap out of bed in his dorm room to capture inspiration when it struck. As he has gotten older, Lias says his work has become more of a discipline than an impulse.
"It's a mental exercise, assembling all the moving parts of a symphonic piece in your head," he explained.
Like others, Lias distrusts the 10,000-hour baseline.
"It seems weirdly coincidental," he laughed, "but it's useful in that it's a really high number. I'd be happy to throw that principle at my students, as a kick in the pants, a commitment to pursue your craft to a deeper and higher degree than everyone else around you. That's the key to success."
He says that while instrumentalists often benefit from a strict, regimented practice schedule, that's simply not how he works. He schedules blocks of time in two- to three-hour increments and then focuses.
"The moral of the story is," said Lias, "you're going to have to work really hard, and really long, and maybe then you'll come out into the sunshine."
Full-time job
Dance major Makayla Garrett '19 got a significant jump—or more like a grand jeté—on her 10,000 hours by starting her ballet career at the age of 2.
"I'd watch the Barbie 'Nutcracker' on my VHS tape and say, 'Mom, that's what I want to do!'" said Garrett.
Right on cue, Garrett's mom enrolled her in ballet classes.
In those years, she spent 10 hours a week at the studio. By high school, she was practicing up to 40 hours a week, logging 8 hours each Saturday and Sunday.
"It really was a full-time job," she said. "Dance isn't a thing where you can go into the class, learn material, study and pass a test. You have to be constantly practicing."
To finish high school early, Garrett combined her junior and senior years. Then it was off to college. At Messiah, she continues a less grueling practice schedule—dancing 20 hours six days a week for her major and rehearsing in the evenings for the program's annual shows—but her focus has changed.
"Before college, dance was almost a self-absorbed kind of thing for me," said Garrett. "My college experience transformed this understanding and made me realize that God is the sole reason that I can wake up each day and do what I love for His glory: dance. I will only reach my full potential as a dancer when I completely and joyfully surrender my talents to God in order to make all of my work, effort and tireless hours spent practicing worth something."
Muscle memory
Wrestling appealed to grad student Lucas Malmberg '16 for two reasons: 1. He was a hyper kid whose energy barely fit inside his childhood home. 2. His older brother was a wrestler, fueling a classic case of sibling rivalry.
"I told my parents I wanted to be like my brother and wrestle in college," Malmberg said. "They said, 'We can help you, but you have to make a commitment.'"
He did, and it worked. In March, Malmberg became Messiah's all-time wrestling wins leader while also defending his national championship. He also reached the national final in his freshman and sophomore seasons, meaning that he wrestled in the championship match for four consecutive years. On the academic side, Malmberg received his B.A. in Christian ministries in three years and returned to Messiah in the fall of 2016 to pursue a master's in counseling.
Since his graduate degree is conducted almost entirely online, Malmberg spent much of his fourth year of eligibility training. He spent at least 90 minutes five or six days every week in the wrestling room and three days a week weight training and conditioning.
"I was born with a lot of natural athletic ability, which I think helped me pick up moves faster than some," said Malmberg, "but it takes time to master those skills. To work against the best opponents in the country, all those moves need to be muscle memory, second nature. That takes a lot of repetition and time on the mat."
Doctor time
Professor. Student. Nurse. Kristen Slabaugh '05 fills all of those roles and seems to have mastered the art of time management. She's a full-time associate professor of nursing at Messiah who also clocks hours as a per-diem family nurse practitioner. In July, she will complete a four-year DNP/FNP (Doctorate of Nursing Practice, Family Nurse Practitioner) with a sub-specialty of nursing education degree from the University of South Alabama.
She's also a mom of three children under the age of 6—one of whom is a newborn.
"If I think about everything that needs to be done in the next month, I panic," she said. "So I keep my head down and keep plugging away each day."
At any given hour, she's shifting gears among her roles as teacher, student and nurse. A prof during the day, she studies for her doctorate at night. Her nurse practitioner hours fit where the schedule allows.
"Nursing in itself requires classroom and clinical teaching," she said, "so I have to maintain proficiency in the classroom as well as the hospital."
She empathizes with the nursing students she teaches and offers them time management wisdom from her own life. Picking specific days to accomplish specific tasks—laundry always on Saturday mornings, shopping only on Wednesday evenings, etc.
"I give them some really minor but helpful strategies that I use: work in small chunks, plan ahead, know what you need to do today and get it done," said Slabaugh. "Don't look ahead at everything that needs accomplished in the next few months or years—it's too scary!"
In August, she'll wear a new hat as the coordinator of the DNP/FNP program, continuing to share her cumulative hours of experience and expertise with Messiah students. "I really don't have any clue what life is going to be like without [doctoral] school," she laughed. "I hope it's a pleasant surprise."
Decades of play
Richard Roberson is both dean of the School of the Arts and possibly the only man on campus who doesn't consider Richard Roberson a master at the piano.
He started playing as a child and picked it back up as a sophomore in high school, when he found himself inexplicably drawn to the symphonic score books that he and his mother—a piano player in her own right—brought into their home.
"At the time, I wasn't thinking, 'I must see an orchestra score,' only that they might be interesting to look at," he said. Yet before long, the interest blossomed into something more. "I can't explain it beyond realizing one day, 'Oh, that's right! I need to be a musician!'"
Roberson enrolled at Indiana University, where four hours of daily practice was the expected minimum.
"My body could practice more, but my brain couldn't. If I find some pianist who says he practices more I'm always a little suspicious," he laughed. Still, he recognized that college represented a prime opportunity to dig in. "My teacher said to me, 'Now is the time to do this, because after this you'll have to earn a living.'"
Conservatively speaking, practicing at least four hours a day for a 10-year period means Roberson easily cleared the 10,000-hour bar before making that living. "When I was first a faculty member, I still came close to that four hours a day," he said. "Once I had kids, it was more like two or three. Now, as an administrator, of course, I sometimes go weeks without touching a piano."
The exception to that rule, of course, is when Roberson stages one of his occasional performances. "I have to spend two hours a day just to get things halfway decent," he laughed.
Today, Roberson is recognized as a master — when brainstorming subjects for this story, his name was the first to come up — but he politely demurs, arguing that he's never satisfied with his last performance. Yet he agrees that the fire still burns. "I'm not sure I can explain the inner motivation, and I don't like to use the term self-expression, but some people need to make music," he explained. "It answers an inner need you have. But I can't explain what it is."
All he can do is pursue it.
Whether it's logging clinical hours to stay abreast of the latest medical technology or composing a musical score, mastery of a skill does require practice, but passion also plays a key part—in keeping one motivated, in fueling the desire to become a little better at something today than you were yesterday. And that's an intangible Gladwell can't measure.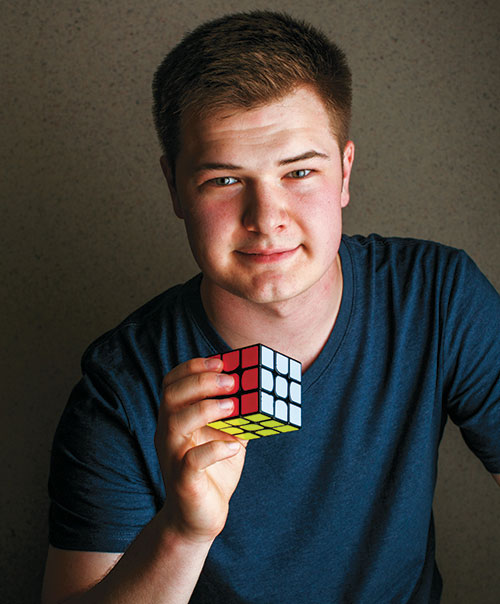 Engineering major Justus Danielsen '20 calculates he has spent roughly 1,000 hours practicing how to solve a Rubik's Cube as quickly as possible. He can accomplish this feat in 12 seconds and hopes to get below 10.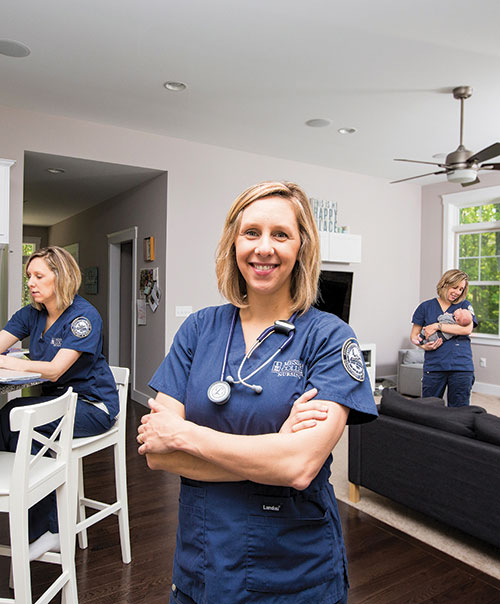 Associate Professor of Nursing Kristen Slabaugh '05 logs endless hours as a professor, family nurse practitioner and student. She says she concentrates on completing daily tasks in small chunks to avoid burnout.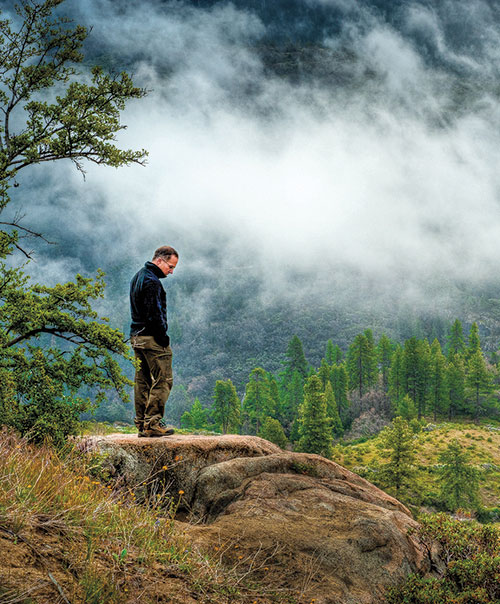 A self-described 'adventurer-composer,' Stephen Lias '88, pictured as Yosemite National Park, schedules blocks of time in which to craft his orchestral pieces.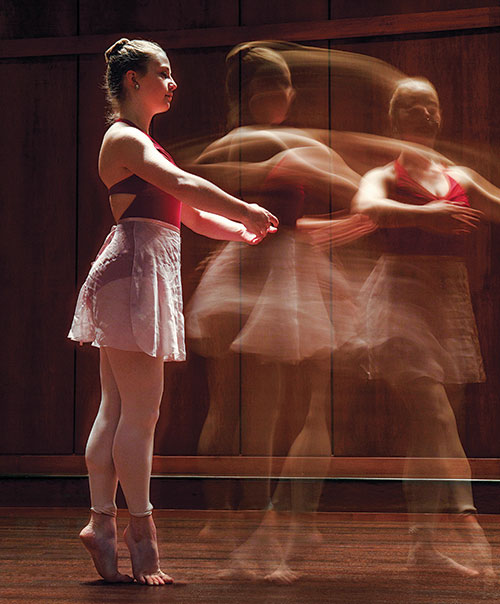 Makayla Garrett '19 practices 20 hours a day, six days a week for her major.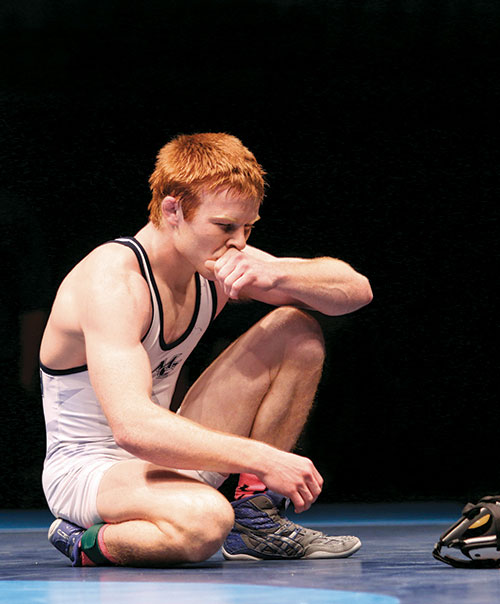 Lucas Malmberg '16 says since his collegiate wrestling career has ended, he still works out every week but 'takes it easy' on his body now.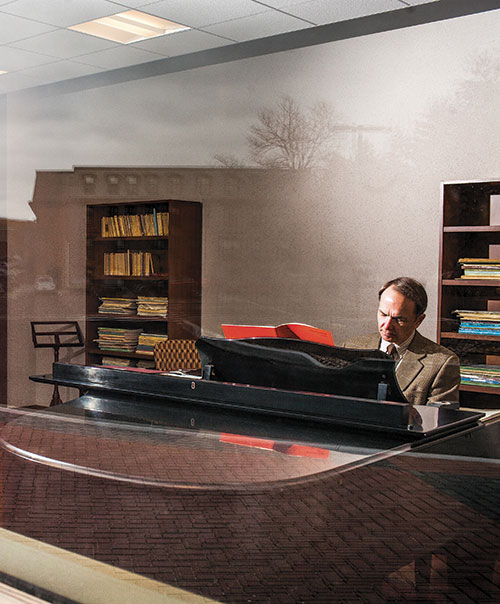 Dean of the School of the Arts Richard Roberson says, after decades of practice, he's still never satisfied with his last performance.