The Rise of a New Instagram Queen
Olympic medalist, Simone Biles boasts 3.2 million followers on Instagram. At only 19 years old, she receives hundreds of thousands of likes on every picture she posts. Her popularity, however, wasn't always this bold. Instead, her following has fluctuated with her career.
In 2012, Biles made a name for herself when she won vault and all-around events at the American Class, Alamo Classic, Houston National Invitational and Secret U.S. Classic (Mead, 2016). Her first Instagram post appeared amidst the competitions on June 15, 2012. Because of Biles' recent successes, her Instagram picture of frozen yogurt generated 2,343 likes (pic 1).
After her 2012 wins, Bile's posts dipped down to only a few hundred likes before shooting back up to 3,257 likes on August 16, 2013, when Biles posted a picture during the P & G Championships (Mead, 2016) (pic 2). Two days later, at the end of the competition, Biles posted a picture of her team that gathered 3,272 likes (pic 3).
As before, Biles maintained her following, but didn't see any social media growth until July 11, 2016, when she posted qualified for the United States Olympic Gymnastics team. "2016 Olympic Team" received 100,037 likes and skyrocketed Biles into the Instagram eye (pic 4).
Biles recognized the opportunity and jumped on the Olympic bandwagon of fame. Taking her followers behind the scenes with a homemade spa night on July 27, 2016, resulted in 86,722 likes (pic 5), and posing with her gold on August 10 generated an overwhelming 438,259 likes (pic 6).
Her top post, however, didn't involve a medal at all. Instead, it showcased an ecstatic Biles, the forward-facing camera and a certain Zac Efron, of early "High School Musical" fame. The almost instantly viral picture of Efron stealing a kiss capped off at 714,597 likes (pic 7).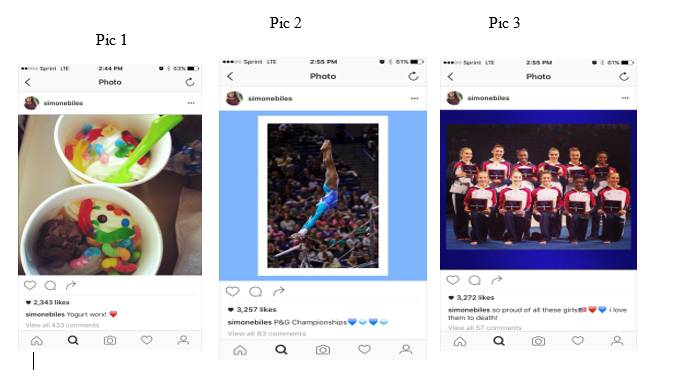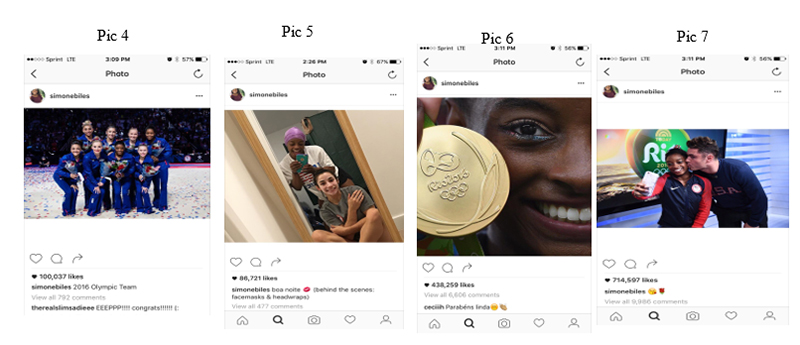 As Biles' fame grew, her social media following did as well. When she dominated the gymnastic world, she seamlessly took over the virtual world as well. People love success stories, perhaps hoping their social media engagement through a "like" or comment somehow inspired an individual's achievement. The Internet connects anyone to everyone, meaning that Instagram pictures and success stories link everyone who wants to share in that moment.
When Biles won gold, fans rejoiced because a piece of themselves longed for a gold medal as well. To compensate for their lack of an Olympic win, fans simply liked Biles' picture and instantly felt connected to the person who had achieved the desired gold. Her picture with Efron exploded with likes because nearly every teenage girl in the Western World wishes Efron would steal a kiss from them.
What can aspiring social media achievers learn from Biles? To become an Instagram legend, post content that connects with others. Through that content, invite followers to take part in activities and adventures they would not otherwise have access to. To wear the Instagram queen's crown, follow Biles' lead and post what followers want to see.
Mead, W. (2016, August 16). Simone Biles Biography. Retrieved September 16, 2016, from http://www.biography.com/people/simone-biles-051816