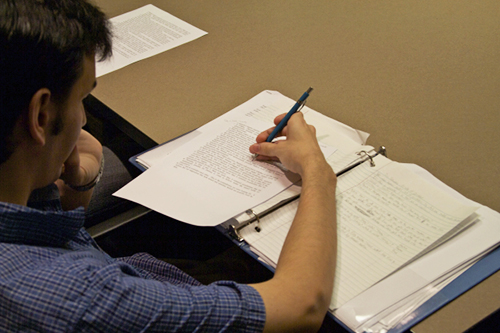 The philosophy major at Messiah College introduces you to a careful, systematic investigation of fundamental issues of reality and human experience. By addressing such issues as whether or not we have free will, God's relation to the world and to evil, and the nature and origin of morality, the philosophy major will equip you with the sort of background and intellectual skills that will enrich your life and enable you to rationally develop a distinctively Christian view of the world. The major in philosophy offers intensive training in analytical and critical-thinking skills, a broad historical background in Western thought, and an exposure to non-Western philosophy.
The philosophy minor is designed for students who wish to supplement their primary education in another field with the study of philosophy. It allows great flexibility to explore those areas of philosophy that are of the most interest and benefit to the individual student.
Curriculum
Philosophy Major Requirements
Required Courses 30 Hours (10 Courses)
PHIL 101 Problems in Philosophy; or PHIL 102 History of Philosophy
PHIL 220 Introduction to Logic
PHIL 247 Ancient and Medieval Philosophy
PHIL 253 Modern Philosophy
PHIL 310 Contemporary Continental Philosophy
PHIL 341 Epistemology and Metaphysics
PHIL 382 Ethics; or PHIL 325 Moral Problems
PHIL 345 Philosophy of Religion
PHIL 318 Asian Philosophy
PHIL 460 Philosophy Seminar
Additional Courses: Any combination of two philosophy courses that are numbered 300 or higher:
PHIL 3XX Phenomenology
PHIL 3XX Existentialism
PHIL 342 Aesthetics
PHIL 362 Philosophy of Science
PHIL 360 Topics in Philosophy
PHIL 382 Ethics; or PHIL 325 Moral Problems
PHIL 498 Philosophy Honors
PHIL 499 Independent Study
Course Schedule:
All courses other than PHI 101, 102 and 460 offered every other academic year. They will not necessarily be offered the same semester every year, however.)
How to Apply
To apply for admission to Messiah College, simply call and request an application at 1-800-233-4220 or apply online!, Open House dates and major-specific events are scheduled throughout the year. Students may arrange for a variety of visit options to suit their interests and schedule.