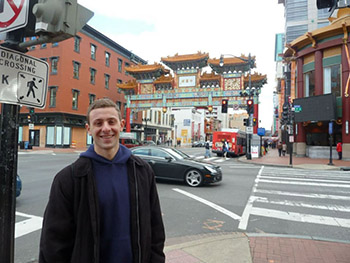 Adam Spinozzi, Class of '15
Middle Level Education with Social Studies and Science Certification
Favorite Thing about Messiah:
Hands-down, my favorite thing about Messiah is being able to express my faith freely. There is nothing more important and encouraging to me than seeing people willingly worshipping God in fellowship. Messiah seems to emanate with feelings of love, service, and community.
In addition, I also love the Education program here at Messiah. The professors are dedicated to their work and their students. They constantly push their students towards excellence, while also demonstrating intentionality in their relationships. I can honestly say that my professors truly care about my success as a student and a person.
Classes:
I must admit that classes here at Messiah aren't easy – and that's not a bad thing. It is through these classes that I have developed resiliency, a skill that will carry with me years after I graduate. And yes, many nights have been long, but every assignment has been beneficial. I can whole-heartedly admit that I feel prepared for my future, something that many Messiah students can, or could, attest to.
Nevertheless, these classes are still fun and engaging. Education courses are by far the most fun classes at Messiah. The professors in this department, due to their professional work in the schools, have developed a youthful outlook on life. And so, with their positivity it is very hard to enter an Education class and feel burdened or overwhelmed with grief or boredom. Furthermore, the professors in the Education Department all seem to have adopted what is known as the FISH philosophy, whereas you as the student can determine your attitude towards the classwork. If you choose to see the class as an opportunity to learn and have fun, then that is what you will receive from it.
Extracurricular Activities:
Messiah does a tremendous job involving their students in extracurricular activities, and because of this I have joined my fair share of things. I have had the opportunity to play on several rec sport teams, serve in inner-city Harrisburg, and even participate in the creation of the school newspaper. However, my most exciting extracurricular activity has been my involvement in Residence Life, aka Res Life. Through this opportunity, I have found new friendships, encountered necessary challenges, and have developed a fresh outlook on life. Yet, what is most gratifying about my participation in Res Life is the ability to use this extracurricular activity as a vessel for ministry. Through this position I have found new ways to spread the love of Christ.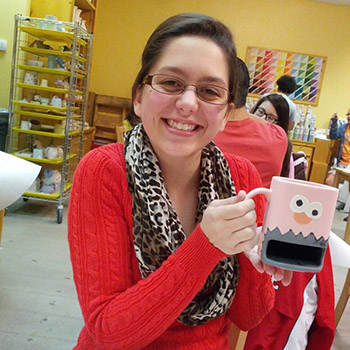 Kayla Desko, Class of '15
Education with Dual Teaching Certification in Grades PreK-4 and Special Education
Why Messiah?
I knew I wanted to go to a college that had great academics, but it was equally important to me to pick a college where I felt I would grow in my faith. I fell in love with Messiah because it offered everything I was looking for and the atmosphere on campus just made me feel so welcomed.
Through my field experiences and education courses at Messiah I feel as though my calling to become a teacher has really been reaffirmed. I have realized that to become a teacher is one thing, but to become an influential teacher who shines God's light in the way they care for their students is something completely different.
Unique Experiences:
Each spring we have a Service Day where classes are canceled for the day and replaced with a day of service. The student body and staff are given various opportunities on campus and in the community to be a part of this great day. One of my favorite experiences so far at Messiah has been getting the chance to be a part of Special Olympics, which we host on Service Day. I have volunteered for the past few years to be a buddy for the day and it is always such a huge blessing. Watching the joy on the kids' faces as they run around the track and just play is contagious. I always love seeing how the Special Olympics is not only a day of fun for the kids who come and participate, but it is equally a day of fun for all of the Messiah students involved in the day as well. Being a buddy at Special Olympics each year has really helped me grow stronger in my faith as I have seen why God calls us to serve others, and it has also confirmed my passion for working with kids.
Extracurricular Activities:
Outside of classes one thing I'm very involved in is the Zumba program on campus. I'm a certified Zumba instructor and am one of the instructors at Messiah. It's a great job because it gives me a chance to be active in a way that is fun for me and others. Not only do I work on campus as a Zumba instructor, but I also do my work study with the Education Department. My work study has helped me get to know a lot of my Education professors out of the classroom on a more personal level. And like most college students I really love just getting a chance to hang out with my friends whether it be going to the soccer games or relaxing by the Yellow Breeches after classes.
Advice for Perspective Students:
My advice for perspective students would be to come into college with an open mind. Be willing to go out of your comfort zone. Sometimes it may be frustrating to have to take a bunch of general education classes, but you'll find that some of those will spark an interest in a vocation you may have never thought about before. Don't be afraid to ask your professors for help. I have found they are always willing to lend a hand. College is a place where you will have to hold yourself accountable when it comes to prioritizing between work and fun. Also, just enjoy every part of the college experience because it will fly by way faster than you can imagine.
Carly Day, Class of '15
Education with Dual Teaching Certification in Grades PreK-4 and Special Education
Favorite Thing about Messiah:
My favorite thing about Messiah College is the opportunity to build relationships with professors and peers. Not only do the professors here take an interest in you as a student, they genuinely care for you in all areas of your life. Also, the small class sizes allow you to build close relationships with peers as you work with them in your core classes. These relationships are the foundation of the Messiah Community, and they have meaning beyond the classroom.
Classes:
So far at Messiah, I have taken a wide range of classes that have prepared me for work in the educational field. In our classes, we are learning up-to-date information about educational practices. This information can then be applied throughout field experience and student teaching. The integration between field experience and coursework also allows for meaningful discussion to occur during classes. Also, I had the opportunity to study abroad in Cheltenham, England. The classes I took abroad added to my overall knowledge base. I was able to take both general education classes and major courses in this setting, allowing me to add to my already well-rounded education.
Extracurricular Activities:
As a sophomore, I became president for Messiah College Education Association. I have also been able to play club field hockey along with rec softball and floor hockey on campus. Also, I have been able to participate with different service opportunities including taking a service trip to Meadows of Dan Elementary School and helping with Operation Wildcat. Finally, I am working as a research assistant for Dr. Murk, the chair of the education department, on a Boyer Basic School book project.