Academic Year Hours of Operation
Mon thru Fri Sat & Sun
Breakfast: 7 a.m. - 9:30 a.m. Brunch: 9 a.m. - 2 p.m.
Lunch: 11 a.m. - 2 p.m. Dinner: 4:30 p.m. - 7:30 p.m.
Dinner: 4:30 p.m. - 7:30 p.m.
Hours subject to change.
---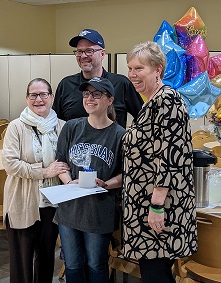 Congratulations, Remy!
Remy has been selected as Messiah's Student Employee of the Year! In addition to this honor, Remy was also selected as PA's Student Employee of the Year! And yes...there is more! Remy was also chosen as one of the top four nominees from the northeast region to move on to be recognized at the national level! Lottie Manager, Todd Christopher is thrilled to have Remy on his team!
Congratulations!
---
Lottie Nelson Dining Hall, located on the upper level of the Eisenhower Campus Center, is Messiah University's main dining hall. We offer a wide range of fresh foods and menu options during each meal period. A full breakfast is available including fresh fruit, yogurt, breads and cereal, and all your morning favorites. At lunch we offer salads, specialty sandwiches, homemade soups, artisanal pizza, amazing desserts and an array of fresh and healthy menu options. Dinner is composed of featured menu items and a rotating cast of international foods, pastas and local favorites. We may look a little different this fall, but you can count on the same level of commitment and quality as you have come to expect. Join us for great food and service! Please visit the links below to view our full menu.

Food Allergy Notice
Foods labeled as "Gluten-Free" have been prepared with gluten-free ingredients. Please be advised that this restaurant is not a gluten-free facility. Products may contain trace amounts of gluten.
Summer Hours
Breakfast | 7 a.m. - 8 a.m.
Lunch | 12 p.m. - 1 p.m.
Dinner | 5 p.m. - 6 p.m.
Hours subject to change
Special News
Messiah's Student Employee
of the Year!!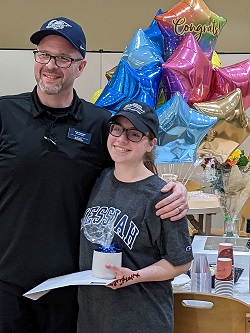 Congratulations to Remy!
Check out the details to the left.