Photo credit: Chris McAte
The Department of Music at Messiah University offers you the opportunity to perform in a variety of ensembles, vocal and instrumental.  Messiah's ensembles regularly perform with guest artists and have collaborated with professional ensembles, including the Harrisburg Symphony, Tromba Mundi, and the Susquehanna Chorale. Several Messiah ensembles have performed at festivals and clinics around the world, earning honors at all levels.
The faculty at Messiah University bring years of experience in teaching, performance, and scholarship to the classroom and the studio. As a student you will interact personally with faculty from several disciplines. Messiah University faculty keep active professional lives, performing with and conducting symphonies, choirs, wind ensembles, and chamber groups along with publishing academic articles and giving clinics nationwide.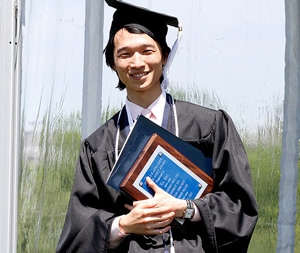 The Department of Music not only prepares you for a career as a performing musician, but also as a scholar in the liberal arts. Messiah University was named a "Best Northeastern College" by the Princeton Review and ranked #5 in "Best Regional Colleges in the North" by U.S. News and World Report. Messiah University graduates go on to pursue careers and graduate degrees in a variety of fields and are well-prepared by the intense academic environment the University offers.
The Department of Music is housed in the new Calvin and Janet High Center for Worship and the Performing Arts. The 790-seat Parmer Hall serves as the primary performance space and contains a refurbished and enhanced 1950s-era Reuter pipe organ as well as a choir loft that seats more than 100 additional guests, while the 150-seat High Foundation Recital Hall offers a more intimate space for chamber ensembles and solo performances. There are recording capabilities in all halls and rehearsal spaces as well as an up-to-date recording studio with ProTools HDX equipment and a complete keyboard and iMac computer lab.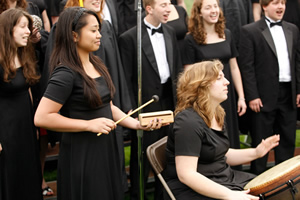 The Department of Music at Messiah University strives to maintain its mission, which aims to set the graduate on a life course which continues to integrate one's Christian faith with the practice and teaching of music. Students and faculty within the department work to encourage each other to reach their highest potential, while challenging each other to consider more than simply the musical and academic components of their studies.