Director of Planned and Leadership Gifts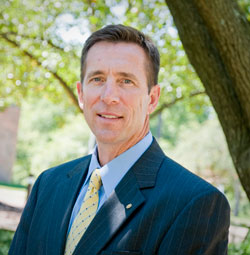 Messiah University is a special place. It's a unique community where we all learn, grow, and challenge each other spiritually and academically. Its rich heritage and distinctive mission connects so many people in so many ways.
I am continually encouraged and amazed by the talented young people who attend this univesity. They are incredibly gifted students with hopes and dreams of wonderful possibilities. I am fortunate to have the opportunity to see these talents displayed at concerts, sporting events, and academic settings. And of course, many of these students are now alumni fulfilling the mission of this university. What remarkable stories of service and leadership are conveyed each year!
My work affords me the privilege to interact with many of these alumni as well as friends of the university. I am constantly humbled by these individuals who sacrificially give to support the university and its students. Without this community, Messiah would not exist. I count it a privilege for me to tell the Messiah University story and encourage our alumni and friends to partner with us in this mission of Christian higher education.
Bob currently serves as the director of planned and leadership gifts at Messiah University. He works closely with alumni and friends of the University to structure charitable giving arrangements that benefit both their financial and stewardship goals. Many of these plans involve the use of charitable trusts as well as other planned giving arrangements.
A 1982 graduate of Messiah College, Bob also has a Master of Science degree in financial planning from the College of Financial Planning and is a Certified Financial Planner. Prior to coming to Messiah College in 1992, he was a financial planner with IDS Financial Services.
He is a member of the Financial Planning Association, Estate Planning Council of Central PA, Estate Planning Council of Cumberland County and the Mechanicsburg Rotary Club.
Bob resides in Dillsburg. When he is not with his wife Beccy or one their three children, you might spot him on his road bike or a local golf course.
Robert O. Brown
Director of Planned and Leadership Gifts
One University Avenue Suite 3013
Mechanicsburg PA 17055
bbrown@messiah.edu
717-796-5051