Director of Development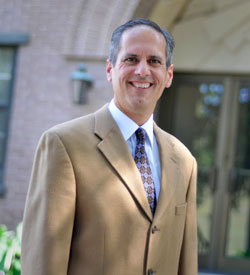 My wife and I feel deeply that God led us to Messiah College. I have always felt a call to play an active part in furthering Christian higher education, and I can think of no place I would rather be than here at Messiah. The heritage of the College is comprised of many stories of people giving sacrificially so that students could attend Messiah and discern the vocational calling of God on their lives. Without the financial and prayer support of many, Messiah would not be able to fulfill its mission of nurturing young men and women toward lives of service, leadership, and reconciliation in church and society. I am grateful to be a part of the Messiah family.
Jon C. Stuckey became the Director of Development at Messiah College in September 2007. He came to Messiah in 2000 to launch and direct the Grants Office. Jon is a graduate of Malone College in Canton, OH, and completed his doctoral work in sociology at Case Western Reserve University in Cleveland. His past research focused on the role of religion and spirituality in the life experiences of those caring for a family member with Alzheimer's disease. Jon serves on the boards of Messiah Lifeways, Ten Thousand Villages and the Polar Bear Foundation (Northern York County School District). He and his wife, Shari Taylor-Stuckey, are the parents of two daughters, Taylor and Blake. They live in Dillsburg, PA and are members of the Dillsburg Brethren in Christ Church.
Jon Stuckey
One College Avenue Suite 3013
Mechanicsburg, PA 17055
717-796-5065
jstuckey@messiah.edu