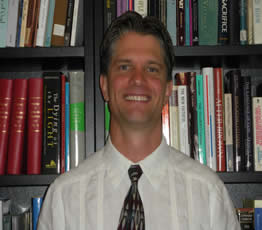 Milton Gaither
Professor of Education
mgaither@messiah.edu
Ph.D. Indiana University, 2000
M.A.R. Yale University, 1996
B.A. Wheaton College, 1993
Research:
A. Books
History of American Education (San Diego, CA: Bridgepoint Education, 2012)
Homeschool: An American History (New York, NY: Palgrave MacMillan, 2008)

American Educational History Revisited: A Critique of Progress (New York, NY: Teachers College Press, 2003)

B. Articles
"The History of North American Indian Education, 15,000 BCE to 1491," History of Education Quarterly 54, no. 3 (August 2014): 323-348.

"Is it Time for Another Historiographical Revolution?", History of Education Quarterly 53, no. 2 (May 2013): 177-183.
"Homeschooling: A Comprehensive Review of the Research,"Other Education: The Journal of Educational Alternatives 2, no. 1 (February 2013): 4-59.
"The Revisionists Revived: The Liberation Historiography of Education," History of Education Quarterly 52, no. 4 (November 2012): 488-505.

"Homeschooling in the USA: Past, Present, and Future," Theory and Research in Education 7, no. 3 (November 2009): 331-346.
"Homeschooling Goes Mainstream," Education Next (Winter 2009):11-18.
"Why homeschooling happened," Education Horizons 86, no. 4 (Summer 2008): 226-237.
Current Projects:
Currently working on a second edition of the book Homeschool: An American History and on an edited Handbook on Homescholling, to be published by Wiley-Blackwell.
Regularly posting reviews of current homeschooling research at http://icher.org/blog/

Courses Taught:
Education and American Society
Ethics: Moral Education
First Year Seminar
Pluralism: American Immigration
Advice for First-Year Students...
Can you handle the regulations and requirements? If so, go for it.
Vocational Story :
Found that I was good at explaining complicated things simply. Love college students. Love talking about big ideas.
Hobbies:
Fitness, guitar and piano.
Favorite Quote:
"All will be well."
Julian of Norwich