Department News & Events
Todd Abbott '19 awarded Fulbright Grant to Malaysia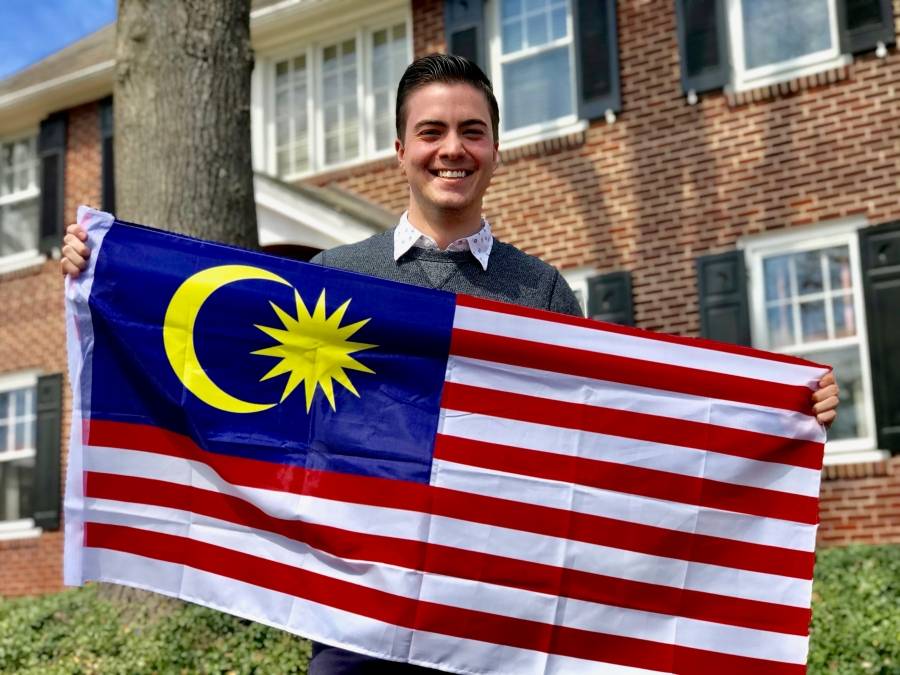 Todd Abbott '19 (international business and marketing double major, politics and Spanish double minor, and current Messiah College student body president) has been awarded a Fulbright Grant to Malaysia by the U.S. Department of State. Abbott's one-year grant assignment will begin in January 2020, allowing him to research, teach English, and integrate with the local community under the larger context of representing America and strengthening international relations. Fulbright is the world's largest and most diverse international educational exchange program, and the award is a reflection of Abbott's leadership and contributions to society.
The Fulbright Program is devoted to increasing mutual understanding between the people of the United States and the people of other countries. With this grant, Abbott will have the opportunity to work collaboratively with international partners in educational, political, cultural, economic and scientific fields while also engaging with community members. This grant is made possible through funds appropriated annually by the U.S. Congress and contributions from partner countries and the private sector.
Learn more about the Fulbright U.S. Student Program: http://us.fulbrightonline.org/
New Course Examines Christian-Owned Companies - March 2019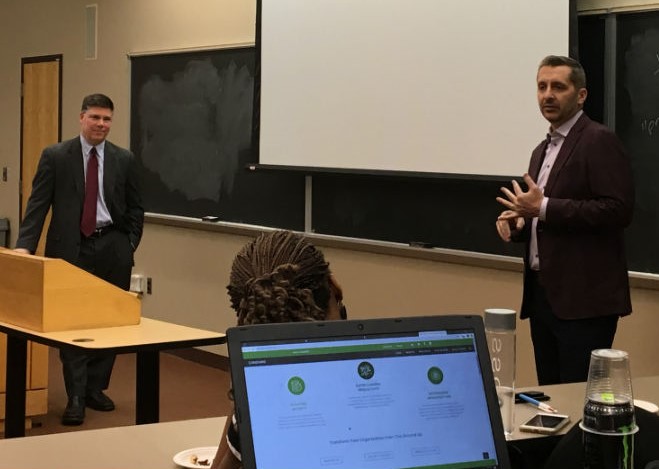 What does it look like when a follower of Jesus runs a business? That's the question Professor Michael Zigarelli is exploring through a newly-designed course called "Business as a Ministry." Populated by two dozen students, mostly juniors and seniors, the course analyzes the operations of 35 Christian-owned companies. According to Zigarelli, it's the only three-credit course of its kind offered in the United States.
Also unique is that 10 executives will visit the course as guest speakers during the 12-week spring term. Among the companies represented are Martin's Famous Pastry Shoppe, CapinCrouse, Candoris Technologies, Bingaman and Sons Lumber, Keystone Custom Homes, Suasion, and Pierson Computing.
Learn more here
Internship Opportunities!
There are many available internship opportunities for Department of Business students. Be sure to sign up for the weekly e-newsletter and follow the Department of Business facebook page - https://www.facebook.com/MessiahBusiness for the most recent internship opportunities available.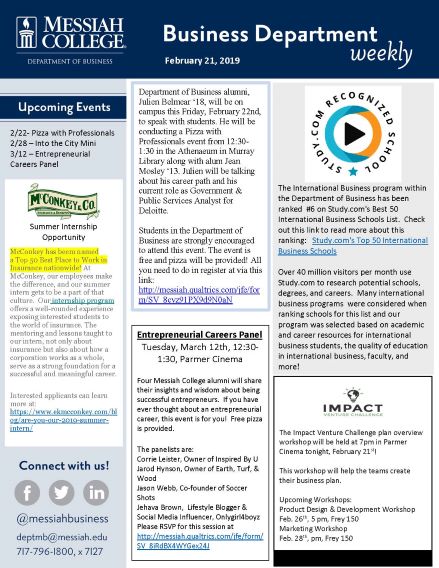 What our students are talking about....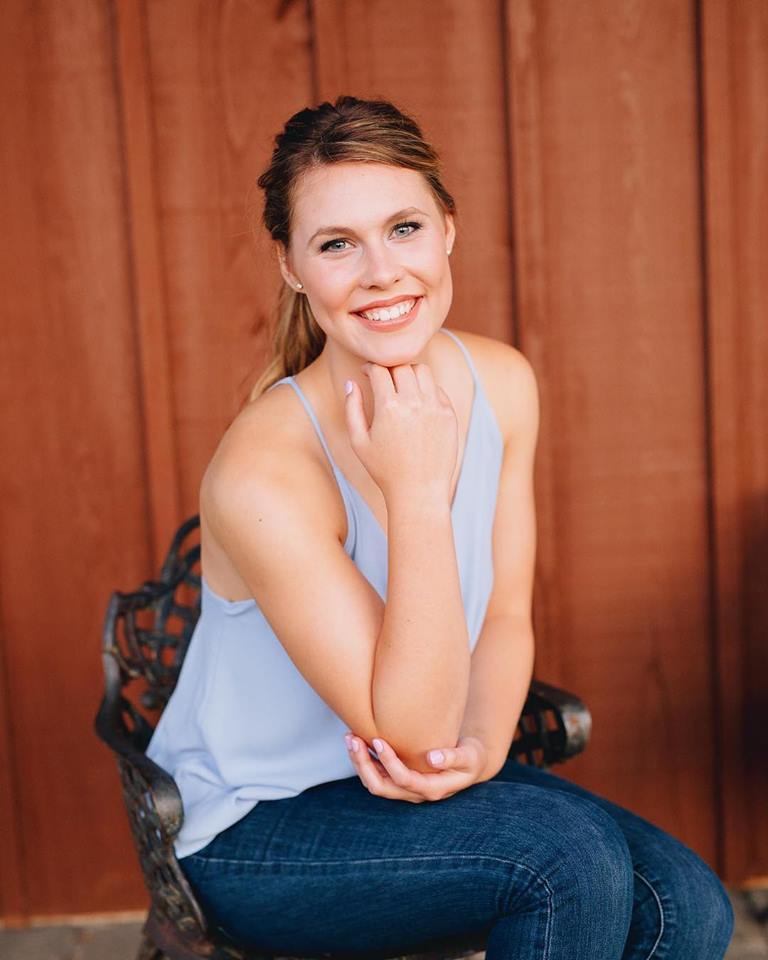 First year student, Brooke Breinich, thanks professor, Dr. Babyak, for encouraging his students to attend the Career and Grad School EXPO.
"I went to the fair and ended up meeting with representatives from the RKL accounting firm in Lancaster. The conversation I had with them actually went so well that I am grabbing lunch with one of the representatives in the coming month. Needless to say, I am excited for this networking and relational opportunity!" — Brooke Breinich, Accounting Major
Business professors by day. Authors by night.
Livia Ungurean
"If there's a book that you want to read, but it hasn't been written yet, then you must write it."
Within the past year, Messiah College business professors David Hagenbuch, Keith Quesenberry and Michael Zigarelli took the challenge to write books that have never been written before.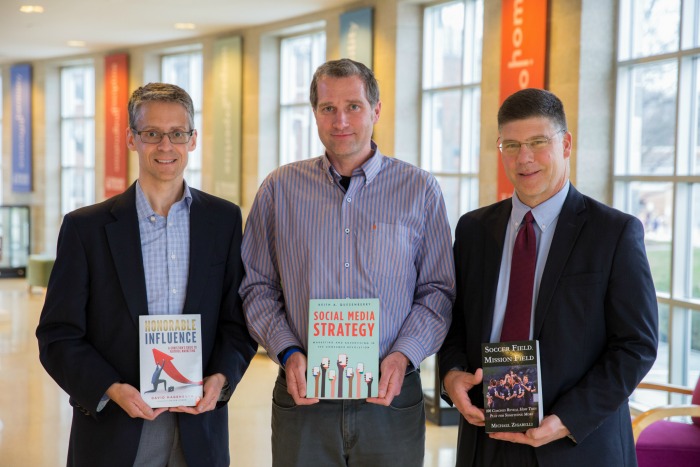 "Soccer Field, Mission Field"
Michael Zigarelli, professor of leadership and strategy and author of "Soccer Field, Mission Field," also the coach for the Messiah Men's Club Soccer team struggled to find resources about how to use soccer as a platform for internal and external ministry. That frustration gave rise to his book idea.
"As a soccer coach, I needed straightforward advice and some inspiration from experts—coaches who had been experimenting with this approach for years. I couldn't find that book. So as a leadership professor, I did the research to write it," he said.
That research entailed interviewing 100 Christians who coach soccer at the high school, college or professional level. The result was a book of principles and practical suggestions that are transferable to any team at any level. His book includes sections on the philosophy of coaching, inventing the culture, instilling the culture, and reinforcing the culture.
"Social Media Strategy"
Keith Quesenberry, assistant professor of marketing, is the author of "Social Media Strategy," a guide to practicing marketing, advertising and public relations in a world of social media-empowered consumers. Quesenberry describes this book as a "roll-up-your-sleeves field guide to sound social media strategy that draws from the best in academic research and professional business practice." This book was designed for a dual audience: professors who want to teach social media strategy in their marketing, advertising or public relations classrooms, and business, marketing and communication professionals who are looking to integrate social media into their current effort and put together a social media plan.
Quesenberry's book takes a deep dive into the world of social media options, as well as the process to create a social strategy that is integrated and successful.
"Honorable Influence"
Professor of Marketing David Hagenbuch authored "Honorable Influence," which explores marketing through the lens of Christianity. Hagenbuch strategizes how marketers can avoid negative impact, and instead influence consumers to their benefit.
"Our world needs more marketers who take very seriously the persuasive power they hold and who seek to use it in ways that genuinely benefit others," he stated. This book uniquely challenges marketing morality to ensure that the field makes a positive impact and influence on society, more importantly it guides readers to use marketing to show love to God and others."Honorable Influence" takes a look at the seven sins of influence and how they affect the church, the workplace and beyond.
These Messiah faculty take their perspective in areas of interest and expertise beyond the classroom. Even if you're not on the soccer field coaching, or in marketing navigating your way through the madness of society, these books are a great source of understanding the impact of influence as a successful tool in leadership.
You can find these books on Amazon, or click the link below.
"Soccer Field, Mission Field"- https://www.amazon.com/Soccer-Field-Mission-Coaches-Something/dp/1539590569/
"Social Media Strategy"- https://www.amazon.com/Social-Media-Strategy-Advertising-Revolution/dp/1442251530/
"Honorable Influence"- https://www.amazon.com/Honorable-Influence-David-Hagenbuch/dp/160039308X