Agape Center Returns Film Student to a Home Away from Home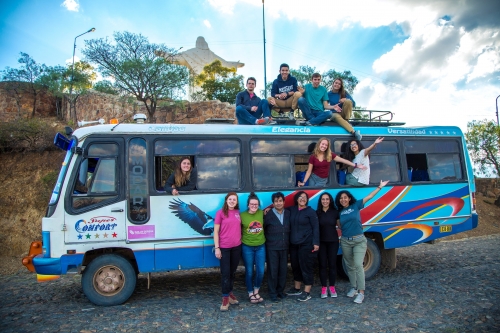 For some students, going to Bolivia on a service trip sounded like a fun adventure. For film and media arts senior Joshua Lindquist, it sounded like returning to a place he once called home. When Lindquist was in seventh grade, his family moved to Bolivia for a year while his father, a professor of Biology and Environmental Science, was on sabbatical conducting research.
"Since being there as a kid, my perspective has changed. Now that I am going back as an adult, I am more culturally aware," Lindquist said. This trip marks the second time he has traveled back to Bolivia with the Agape center. He attended the summer 2017 trip and returned a year later for the summer 2018 trip.
Lindquist enjoys traveling to Bolivia with students who have never been to the country before. He said it is interesting to see other students' culture shock when seeing the adobe homes built out of mud bricks and straw and members of the community walking down to the creek to fetch dirty water.
While in Bolivia, the group had the opportunity to partner with Food for the Hungry (FH) Bolivia. FH is a Christian organization which seeks to end all forms of human poverty worldwide through entering impoverished communities and helping those communities develop through livelihood programs, education, life-saving resources, and responses to natural threats. In Bolivia, FH's main objective is to educate and feed malnourished children under the age of five.
"Messiah has a partnership with FH Bolivia," Lindquist said. "We do a service for them and they will do a service for us. Usually we provide them resources, and they show us the Bolivian culture."
This year, Messiah students had the opportunity to bring microscopes to FH and show the workers how to use them. In return, the FH workers gave students a taste of Bolivia and educated them on the culture. The group spent most of the two-week trip in Torotoro, which is one of the larger towns in the middle of the mountains outside of Cochabamba. Not only did students have the opportunity to get to know the local community, but they also got to see the local attractions like enormous dinosaur footprints and a beautiful canyon overlook.
While the main purpose of the trip was to provide microscopes for FH, Lindquist used his communication background to help build relationships with individuals from the local community. "Being there for two weeks allowed us the time to build stronger relationships with the community," Lindquist said. "You don't always have to do something to make a difference in a person's life. Being there and letting them know that they are important is just as valuable."
One way that Lindquist showed the value of individuals in the community was through photography. After two weeks of taking pictures of Bolivia and its people, Lindquist gave the photos to the director of FH. In Bolivia, high quality pictures are expensive to acquire, so Lindquist sharing his talents with the community was a special gift.
The Agape center is looking to send another group to Bolivia during the summer of 2019, hoping to provide FH more complex microscopes than the ones they took this past summer as well as curriculum, workshops, and water filters.
"I would recommend this trip to students who would like to serve abroad," Lindquist said. However, Lindquist warns students to keep an open mind while traveling to Bolivia.
"It is a whole different world down there. Here we teach the idea of community almost in a way that is forced. In Bolivia, they live the idea of community and truly depend on each other for their livelihood. I think that is what keeps pulling me back there."
– Alli Williams '19