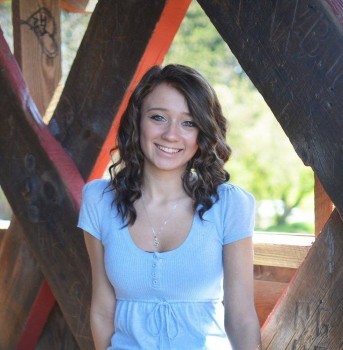 Sophomore Journalist Writes Her Own Story with WHAG-TV Internship
A morning meeting, a hands-on visit to the scene of a news story and reporting the 5 o'clock news. This schedule describes this past summer for sophomore journalism major Valerie Bell, who interned with WHAG-TV in Hagerstown, Md. To gain real-life experience, Bell had the opportunity to shadow reporters and producers from the TV station. The various tasks she mastered during the internship encouraged her to continue pursuing journalism.
"Having this internship really secured any doubts I had about my future," she says. "I have never been more excited to see what my future holds and what God's plans are for me and how I can use my gifts to make a difference in others' lives with my vocational plans."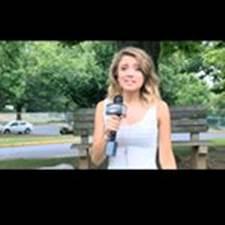 Valerie Bell out reporting
Along with shadowing other reporters, Bell's other daily tasks included "driving with the reporter to the scene of a story, shooting b-roll, recording a stand-up and assisting the reporter with the story." Sometimes, Bell recalls, she would have the opportunity to report a story herself. After filming the report, Bell and the reporter completed some behind-the-scenes editing. "We would edit the package and vo-sot [voiceover-to-sound] to be ready for the news at 5." Throughout the internship, Bell often executed the techniques herself, adding, "I was surprised with how much they let me do and the hands-on experience I was able to get."
The Communication Department's new television station, MC77, has given many students, including Bell, a hands-on opportunity with broadcast news production. Bell says that her role last year with MC77 really helped her adjust to work with WHAG-TV, along with knowledge gleaned through her major courses and professors. She says, "I never realized how realistic the things I learned from being on the crew for MC77 were, or that they would be so similar to the things I would be doing at WHAG. I know that I wouldn't have had the same experience at another school."
Bell recalls one of the most rewarding parts of the whole internship experience as "being able to see a news station behind the scenes. Just being able to go out and see what exactly a reporter does was really neat. [Choosing] the most rewarding part of the whole experience is a hard question because, overall, everything was."
Bell advises other students to look for an internship as part of their college experience and to not wait for it. After all, her first internship followed directly on the heels of her first year of college. She asserts that students should actively pursue an internship or experience that they want to be a part of, rather than waiting for it to come to them. She also adds that asking questions and adding input during the experience will help students to get the most out of it.
"Hands on experience," Bell says, "is the most valuable thing you will have during college and will prepare you more for your future than anything else. You just have to apply yourself."
NOTE: MC77 airs live every Monday night during Fall 2016, with looped recordings playing throughout the week. To view off-campus, follow the links posted weekly on the Department of Communication's Facebook page.
- Stephanie Bricker '18