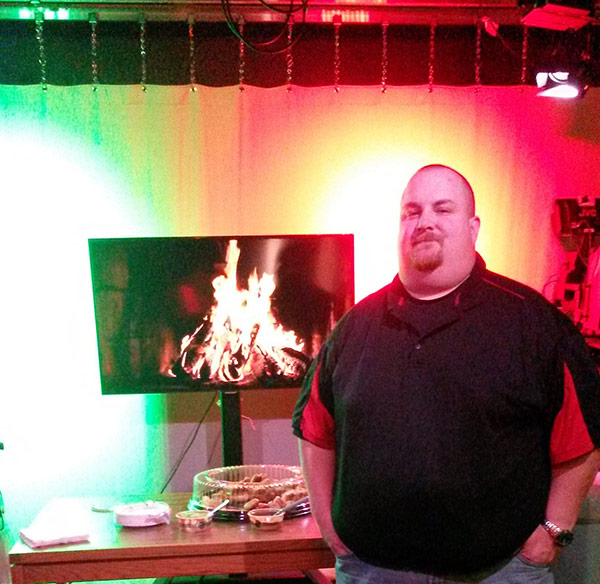 New Broadcast Engineer Keeps Studio in Top Shape
Working in broadcasting communication, especially TV and video production, for the last 25 years, Messiah's new broadcast engineer EJ Inscho has become a vital and integral part of the department's media, including weekly television broadcasts on Channel 77.
A few years ago, Dr. Ed Arke connected with Inscho at WITF, the region's public radio and television station. After discussing their mutual career interests, Inscho told Arke that if Messiah had any openings for a position with EJ's skill set to let him know. That proved fruitful last summer, when the department needed to hire an engineer for its brand-new production studio. Now, Inscho keeps the facility's broadcasting technology in order, manages equipment inventory, oversees work studies, and offers hands-on training with students to prepare for the tough business of broadcasting.
Arke explains, Inscho "is able to provide expertise, instruction and networking opportunities for students interested in careers in broadcasting." With his extensive experience at networks like WITF, ESPN, FOX, PBS and HBO, Inscho will certainly open a whole new networking realm for students looking to work for similar companies, especially since he still has connections with these networks while working at Messiah.
In fact, Inscho has already invested immensely in department students, building strong relationships and providing advanced training. First-year Molly Sherman has met with Inscho frequently throughout the past year to get ahead in her future career path. She says, "EJ has been the most influential person for me regarding my career in my first year of college. He taught me almost everything I know about working in television production. EJ takes personal interest in every student that walks into the studio."
After spending some time with Inscho in his new position, Communication Department Co-Chair Kate Simcox agrees that he has filled a "missing piece" in the department. "His technical wizardry helps production courses run smoothly, he keeps our growing equipment collection in working order, and he's demonstrated an awesome sense of vision and initiative."
Fun Facts about EJ Inscho:
EJ's work in various networks totals more than 4,000 different broadcasts
EJ provides students like Sherman with opportunities to attend game with Navy football and Hershey Bears hockey.
Not only is EJ a broadcast engineer, but he also have experience with producing and directing film.
-Stephanie Bricker '18