Student Sportscasters Promote Teams, Practice On-Air Skills
When senior Joel Hoover and sophomore Ashlyn Miller, journalism students, came to Messiah, both knew they wanted to pursue the world of sports broadcasting. With this dream in mind, both students made those dreams come true by taking classes and taking opportunities to fulfill this goal.
Joel's sportscasting plans have followed him throughout college. "This is something I've wanted to do for many years," says Joel. He took every chance he could to practice, including broadcasting at half-time of sporting events, post-game shows, and at the Pulse radio station. He also studied sportscasters to pick up traits. As a first-year student, Joel even traveled for sportscasting, including a trip to New Jersey for a championship game.
Since he started four years ago, Joel has covered several NCAA tournaments for soccer and basketball and broadcasted full seasons of basketball, baseball, and softball. He even started his own sports talk show on the PulseFM radio to discuss the latest news in sports. One of his culminating experiences included an internship with the Mike and Ike Show on CBS Philly's 94WIP.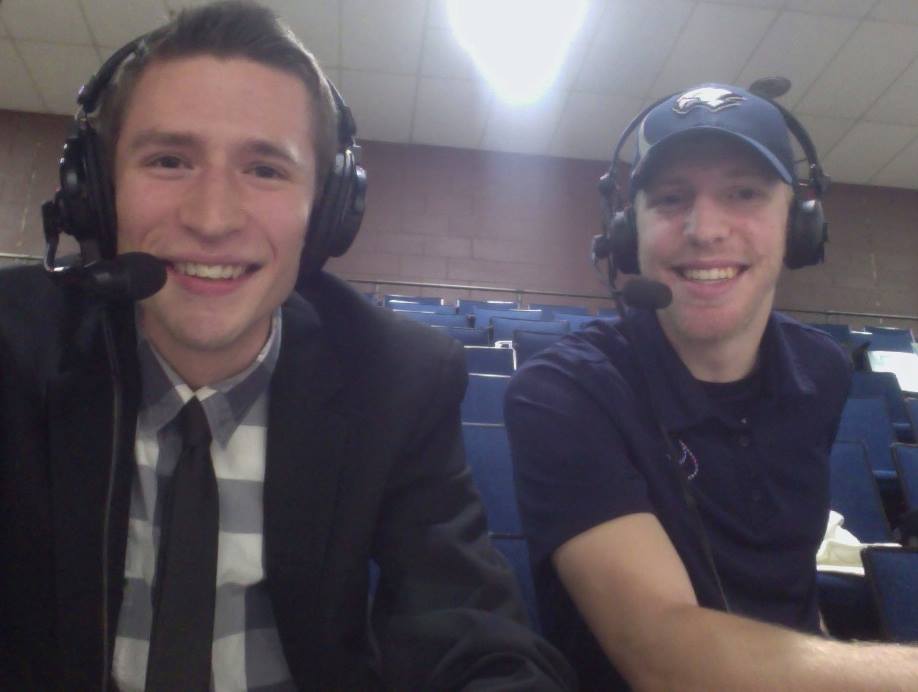 Sports management teams produce a video feed of the sports games, which then transmits to Messiah's sports video feed. A sportscaster's commentary broadcasts over the TV feed to those not in attendance. This commentary is also simulcast over the PulseFM radio station for any listeners tuned in. Playoffs tend to get more listeners, and soccer remains the most popular sport.
Ashlyn's passion for sportscasting also began early in her college career. "I had no idea I could jump in as quickly as I did," she says. When Dr. Ed Arke approached her about broadcasting for sports, Ashlyn quickly accepted. Although only broadcasting for two years, Ashlyn has also traveled to several tournaments, and has broadcasted full seasons of basketball, baseball, and softball.
So how does this whole "sportscasting" thing work?
Joel and Ashlyn have received a lot of positive responses for their sportscasting adventures. "We've gotten great support," says Joel. "Steve King [Messiah's Assistant Athletics Director for Public Relations and Marketing] has given us some great feedback." Women's Basketball Coach Mike Miller has also been very appreciative of Joel and Ashlyn's efforts.
Part of their excitement for sportscasting comes from traveling. "We're lucky to have good teams at Messiah," Ashlyn says, but that also means more traveling for tournaments and championships. Also, working with the same team for so long gives sportscasters a good understanding of how the team functions.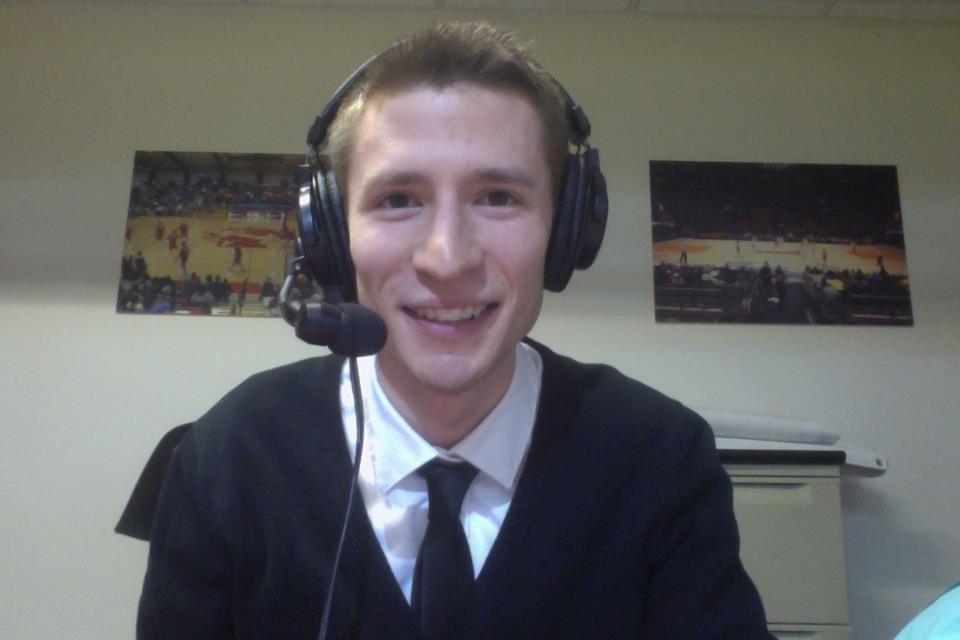 A lot of work goes into being a good sportscaster. Joel and Ashlyn both do a lot of research before games about the other teams. "Knowing the other team's stats and names will earn you respect from the other team," says Joel. "It's okay for us to have more insight on Messiah, but that's why research is important." They also try not to give too much favor to Messiah when during games to keep a balanced broadcast.
Joel and Ashlyn offer advice for those also interested in pursuing sportscasting.
"Find opportunities and take them," says Ashlyn. Both Ashlyn and Joel took the Sports Broadcasting (COMM 319) class, offered every other J-Term. Although not a curricular requirement, the class offers great practice for students interested in broadcasting at games.
"Dabble in other areas where you can work on reporting," Joel adds. "If you're a good reporter, you can be a good broadcaster." Students just getting started can write for the Swinging Bridge magazine to start on their reporting skills.
Ashlyn finishes, "Find someone in the field you think can challenge you, someone with more experience."
With good practice and strong advice, aspiring sportscasters just need to develop good practices. Joel says his broadcasting routine has changed a lot since he began. "Now it's all business," he says. "I put my board together and do research. I practice saying player's names. Habits now will be good for later."
-Erin Zakin ('17)