Communicating to Change the Nation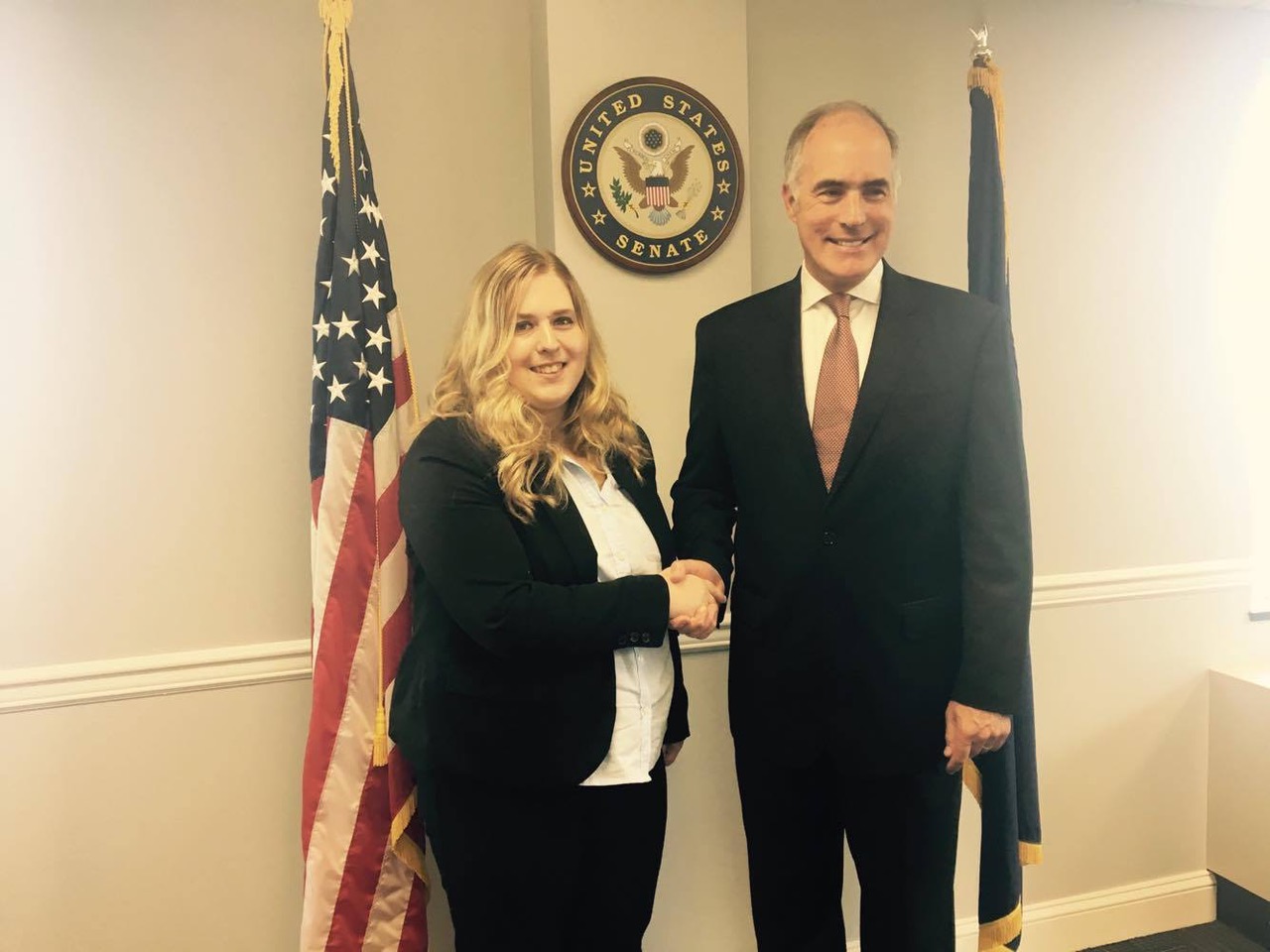 Sarah Fertsch with Pennsylvania Senator Bob Casey Jr.
COMMunity member Sarah Fertsch '19 is using her communication skills to change lives. Combining her passion for communication and politics, Fertsch is currently an intern for the Arc of Pennsylvania, a lobbying group in the state legislature for individuals with intellectual and developmental disabilities.
Fertsch has been able to transfer the skills from her Public Relations major into her internship through researching and writing police training legislation. Using clear and concise writing skills allows her to write training legislature that will provide standards for how police officers treat and communicate with individuals who have disabilities. For example, Fertsch's policy will tell police officers how to communicate with a deaf individual who is in handcuffs. Fertsch is currently undergoing research to see what the policies are in other states, and how the policy in can be improved overall throughout the country. After her research is complete, Fertsch will write a formal recommendation for the board of the Arc of Pennsylvania. If the policy is passed, a senator will be found to represent it in the General Assembly.
Fertsch has also had the opportunity to write the talking points for one of the Arc's recent press conferences. "It felt like I was really making an impact in legislation today. That the things I was writing could ultimately affect policy, and policy affects lives. I think that is really cool."
The press conference was addressing Iceland's eradication of Down syndrome. At the conference, a family whose young daughter has downs syndrome was asked to speak about the joys of having a child with Down syndrome. Fertsch worked with this family to create talking points for them to use in the conference. One talking point was that in 1973, more laws were passed to protect animals than fetuses who have intellectual disabilities. The two notable Supreme Court decisions made in that year that were expanded on at the conference were Roe vs. Wade, which forbid states from outlawing or regulating abortion during the first trimester, and The Endangered Species Act, which protects endangered plants, animals, and the habitats in which they are found.
While she enjoys public speaking, right now Fertsch is satisfied with communicating through writing and allowing others to be her mouthpiece. "How our government responds to our needs, which is displayed in our writing, really shapes the commonwealth and our nation."
Next fall, Fertsch hopes to attain a fellowship in the Pennsylvania General Assembly as a direct aide to a senator. This position will allow her to work in committee and write all the senator's notes. After graduation, Fertsch is looking to pursue a career either in government relations or in speech writing, both of which will allow her to change the nation through communication.
– Alli Williams '19