Maddie Conley Serves through Marketing in the Collaboratory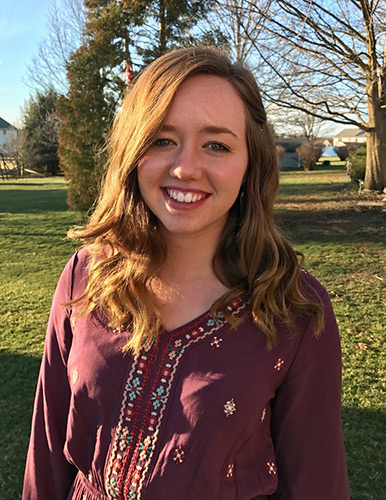 What organization lets Messiah students help others in places all around the globe? The Collaboratory allows students to participate in service projects in 14 different countries with current projects in Zambia, Uganda, Kenya and Panama. With projects that improve access to clean water using well pumps, raise math literacy through education programs, and build structures for advancing communities, the Collaboratory seeks the help of students from all disciplines.
COMMunity member Maddie Conley serves on the Collaboratory's Marketing Team by helping with its newsletter, conducting interviews for the blog, and editing. "I love the fact that everyone in the Collaboratory is using their major for something greater than themselves. They are using the gifts and passions God has given them to bring the glory back to Him."
Conley has been able to transfer skills from her Journalism major into her position on the Marketing Team. "Learning how to write in a concise and clear way in my classes has been very useful. When interviewing, you need to know what to include and what to cut out of the story. I have also been able to recognize the value of communication. There are a lot of people on campus who don't even know what the Collaboratory is, so working to get the message out and tell the members' stories is a very important piece."
To those considering joining the Collaboratory, Conley recommends getting plugged in. She believes students will find it easy to jump in and will immediately see how using skills from their major can bless others. In addition to the Marketing Team, COMMunity members can use their skills with the Work Assessment Talent Team, which helps more that 40 work teams efficiently complete their projects.
In the future, Conley hopes to continue writing and staying involved in more of the Collaboratory's amazing experiences. "Using my major and skills to help other people makes my education worth something greater than just personal gain, and that's really exciting."
- Deanna Preziosi '18