What is the Dorothy J. Gish Women in Leadership Award?
It is a monetary award given to full-time female students at Messiah University who aspire to develop their gifts and advance in leadership roles. In addition to receiving funding for their efforts, recipients will be recognized at the Honors and Awards chapel held at the end of each semester.
The History of the Award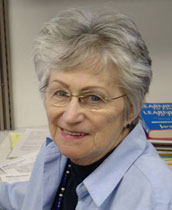 This award is named in honor of Dr. Dorothy Gish, Academic Dean Emeritus and former Professor of Early Childhood and Family Education at Messiah University. During her years of service at Messiah University, Dr. Gish was a critical role model and inspiration for women across campus who aspired to use their gifts to advance in leadership roles. In recognition of Dr. Gish's trail-blazing efforts, faculty and other friends established an endowment in her honor. The interest from this endowment is used to support worthy leadership opportunities for full-time women students at Messiah University.
Eligibility Requirements
Be a full-time, female Messiah University undergraduate student
Have a minimum cumulative grade point average of 3.0
Be a continuing student at Messiah University who is willing to share her experience publicly with the Messiah Community (e.g. dorm floor discussions, alternate chapel, creative display)
Demonstrate leadership on campus, locally, or internationally
Submit a typed proposal delineating a leadership development activity and all information requested on the application form by the designated due date
Review Committee
A review committee scores all proposals that are received by the stated deadline and determines which proposal(s) will be awarded. All applicants will receive a letter from the committee stating the committee's decision regarding her proposal.
Application
All application materials are submitted electronically. MAKE SURE TO HAVE LETTER OF RECOMMENDATION SAVED AND READY TO UPLOAD FROM YOUR SPONSOR BEFORE YOU BEGIN THE APPLICATION. Click here for the application.
Application Deadlines
Proposals for this award are accepted each semester: Fall - September 30th and Spring - February 28th. Submit requests in the semester that is closest to your event date.
Maximum Potential Funding
The maximum potential funding for each individual proposal is $400.00.
Questions?
For more information, please contact Debbie Chopka.