Calvin and Janet High Center for Worship and Performing Arts
The Calvin and Janet High Center for Worship and Performing Arts offers magnificent spaces for music and worship. The 790-seat Parmer Hall serves as the primary performance space and contains a refurbished and enhanced 1950s-era Reuter pipe organ as well as a choir loft that seats more than 100 additional guests, while the 150-seat High Foundation Recital Hall offers a more intimate space for chamber ensembles and solo performances. There are recording capabilities in all halls and rehearsal spaces as well as an up-to-date recording studio with ProTools HDX equipment and a complete keyboard and iMac computer lab. The main foyer features a stunning permanent art installation by Professor Emeritus of Art Ted Prescott.
Climenhaga Building
The Climenhaga Building offers striking, well-lit drawing and painting studios, a printmaking studio with intaglio and lithography presses, and a darkroom for photography. Climenhaga Building also houses the M. Louise Aughinbaugh Gallery, which exhibits the work of internationally recognized artists as well as faculty and students. The 400-seat Miller Theatre, Poorman Black Box Theatre, a soon-to-be completed dance studio and ample practice room space enhance your studies and performances.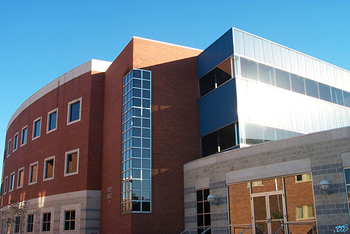 Frey Hall
Frey Hall (1992) houses approximately half of the art spaces: a sculpture studio equipped for wood and stone carving, wood construction, welding, and mixed media work; a ceramics studio with 20 throwing wheels and electric and gas-fired kilns; a textiles studio equipped for dyeing, printing, sewing, weaving, and mixed processes; a graphics computer lab and drafting lab outfitted with MAC and PC stations, scanners, and color printers; and specially equipped art history classrooms and a slide library.