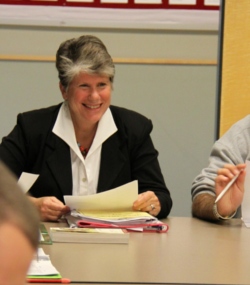 Contact Information:
P.O. Box:
3017
E-mail:
jcorey@messiah.edu
Phone:
(717) 796-1800, ext. 2097
Office:
Boyer 208
Fax:
(717) 796-4790
Jean Corey
Assistant Professor of English
There's few things Dr. Jean Corey loves more than good conversation -- that's why she loves teaching English. She loves the sense of community and discovery of knowledge that happens over and over again when a group of people are reading, writing, and thinking together. What could be more generative for good conversation? And she loves teaching in a community that is committed to engaging in the kinds of conversation necessary for reconciliation and justice. Dr. Corey teaches Composition Theory and Pedagogy, Secondary English Curriculum and Instruction, and World Literature. Her research interests include justice and pedagogy, gender and literacy, and spiritual autobiography.