Do you dream of studying abroad against the backdrop of the Greek Colosseum, in the outback of Australia, or a stone's throw from an ancient German castle? Are you interested in partnering with Food for the Hungry or World Vision to bring famine relief or clean water to Africa? Do you want to explore the diverse business practices of companies all across Europe and Asia?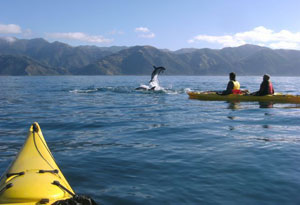 You can do all of that and more at Messiah University!
Off-campus programs
Messiah has off-campus programs in more than 30 different locations.
The office of Off-Campus Programs helps you take care of every detail – everything from getting a passport, to assuring your parents your program is safe, to helping you transition back to life in America when you return.
Early in your Messiah career you will want to stop by our office or make an advising appointment to learn of the many options available to you. And don't fret about the money – you can study abroad for about the same price as a semester's worth of tuition and room and board at Messiah.
Cross-cultural experiences
Cross-cultural courses are offered during May term. These trips are led by faculty members and involves an intense three-week study of a particular geographic region or culture. Students earn 3 credits for participating in a cross-cultural.
A cross-cultural experience can take you as close as Southern California or as far away as New Zealand. Some are specific to particular majors – nursing students, for example, visit the Macha Mission Hospital in Zambia to study malaria and history majors can explore the archaelogical sites of ancient Greece.
Regardless of your major, you're sure to find a cross-cultural experience that is an excellent fit!
Service and mission
The Agape Center coordinates a variety of summer service and mission teams. Students can take a service-learning course to design and implement their own international service project. Summer International trips include partnering with organizations like Food for the Hungry and Polish Christian Ministries.
International Business Institute
10 countries. 8 weeks. 12 credits. Sound intense? Sound fun? IBI—the International Business Institute—is all these things and more!
IBI is an overseas program in international economics and business designed to give students an opportunity to integrate academic study with international field experience. Students who travel with IBI during the summer visit corporate headquarters, manufacturing plants, and government and international agencies in Europe, India and China.
IBI is a partnership program among more than a dozen Christian colleges and universities. For students studying business, economics or marketing, IBI provides the opportunity of a lifetime.
Collaboratory for Strategic Partnerships and Applied Research
Never heard of something called a "Collaboratory?" Well that word—a combination of concepts related to "collaboration" and "laboratory"—will certainly become part of your Messiah vocabulary as you become familiar with all the really great things this student organization accomplishes.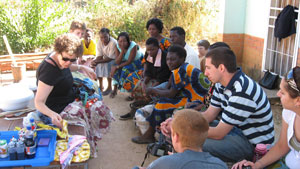 The Collaboratory has a vision: to increase hope and transform lives through education, collaboration, innovation, and service.
Some of the cool ways "Collab" brings their vision to life is by building hand-powered tricycles for physically disabled people in Burkina Faso; by designing and implementing water purification systems for rural communities in Honduras; by teaching paper-making, tye-dying, and basic business skills to the poor in Zambia; and by constructing solar panels to power a computer lab outside Messiah's Frey Academic Building.
Students from all majors are welcome to volunteer with Collab. They need marketers and engineers and accountants and artists who are willing to share their ideas, creativity and skills in order to help serve disadvantaged people and care for the earth.
International internships
Students can live in the heart of London, experience the best of British culture and work in a variety of fields—including the arts, politics, and health care—through an international internship partnership with Arcadia University. Students also have the opportunity to design their own internship at the location of their choice in partnership with Messiah University's Career and Professional Development Center.
International scholarship
In past years, Messiah has produced graduates who have distinguished themselves as Rhodes, Fulbright, Boren, Carnegie, Truman and Udall Scholars.
Messiah professor John Harles is prepared to assist students with an exceptional undergraduate record with applying for prestigious, international graduate scholarships. The time commitment in pursuing one of these scholarships is substantial, but the reward is great!