You don't necessarily need to leave the country to have a global experience as a Messiah student. Classroom and casual conversations promise to be lively and informative as you compare life experiences with your culturally, socially, denominationally, and politically diverse classmates.
Messiah is home to students from nearly 30 foreign countries (places like Ethiopia, Malaysia, and South Korea).
About half of Messiah's students hail from Pennsylvania, but 34 other states are represented too.
Under-represented racial and ethnic cultural populations comprise about 10% of the undergraduate student body.
Multicultural and international student programs
The Intercultural Office provides many opportunities for students to make connections. The office is committed to "embrace the diversity of the body of Christ by creating and providing safe, transformative learning environments and opportunities for students to engage the world as reconcilers and servant leaders at home and abroad."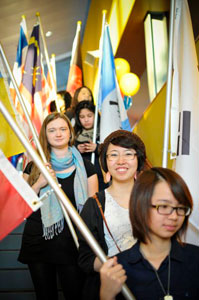 What does this mean for you? Special celebrations of cultures and heritages, lectures and concerts by culturally diverse performers, and a rich variety of student organizations like the African Student Union, La Alianza Latina, and the Middle Eastern Student Association.
Also, if you happen to be an international student, you will find the Intercultural Office to be staffed by caring, helpful people who want to help you feel right at home—even if you're thousands of miles from your family or just feeling out of your comfort zone.
International students can select to live together at the Rafiki (Swahili for "friend") House on campus—a residential environment where the focus is on friendship and fellowship among international students.
A student organization called International Student Association/Mu Kappa exists just to aid international students and missionary kids in making cultural adjustments. ISA/Mu Kappa also provides an ongoing network of encouragement, fellowship, and understanding among its members while bringing world awareness to the Messiah College community.
While no one can replace your family, the Friendship Family Program pairs international students with a Messiah employee's family or local Christian family to provide hospitality and care to you while you're at Messiah. These connections often result in deep, family-like relationships that last long beyond your four years at Messiah.
In the fall, Messiah also sets aside time to celebrate International Education Week, a designated time of celebrating diverse cultures, seeking to understand and appreciate various cultural traditions, and learning about global policies and their impacts.
Every spring the campus community joins together for an International Gala to celebrate the heritage, culture, and food of our international students and educators. The event is so popular that it always sells out right away!
Chapel and church
While students at Messiah have a passion for Christ in common, their expressions of worship can be quite different. The College Ministries team at Messiah seeks to provide all students with opportunities to worship in their preferred way while also exposing them to different styles and expressions.
Through College Ministries' common chapel and alternate chapel programming, you are bound to have your horizons broadened as well as many meaningful worship experiences.
In the greater Harrisburg region, there is a great diversity of churches — large and small, traditional and contemporary, urban, Chinese, and Vietnamese, to name a few. We doubt you'll have trouble finding a local congregation to worship with.