Obviously classroom time is a really important aspect of your college education. Under the mentorship and expertise of Messiah's talented faculty and alongside other motivated students you will undoubtedly talk about how what you're learning in the classroom—whether in English or engineering, biology or psychology—can serve others in the world.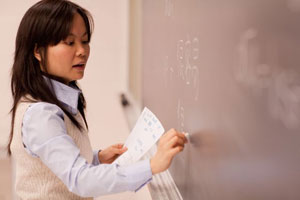 You'll notice this global focus right away. When selecting your first-year seminar course, you'll pick among a variety of courses—some with a community service component, some with a focus on international issues of poverty and economic justice. You'll be challenged to think beyond your hometown and Grantham experiences.
Foreign languages aplenty
As you consider expanding your worldview and adding a few stamps to passport (or maybe even getting your very first passport – we'll help you with that too!), you'll likely want to study another language. Students can select from a variety of modern language courses, including French, Spanish, German and Chinese, or study Hebrew, Greek or Latin. Between these language offerings and numerous travel opportunities, students have no trouble meeting their language requirement.
Learning…then serving
The Collaboratory for Strategic Partnership and Applied Research is a student organization on campus that invites students from any major to use their skills in service while sharing the gospel of Jesus Christ by partnering with others for projects that "foster justice, empower the poor, reconcile adversaries, and care for the earth."
Students and educators in the Collaboratory work together to apply their classroom knowledge—engineering, marketing, business the sciences—to do cool things like construct hand-powered tricycles for the physically disabled in Africa, design water purification systems for poverty-stricken communities in Honduras or teach math skills and improve literacy among children in Burkina Faso to enable them to pursue skilled jobs.
Student diversity
You'll benefit too from simply sitting in classrooms among students from vastly different backgrounds – some who have traveled extensively doing missions work, others who have left their home and family halfway around the world to continue their education at Messiah College, and still others who grew up under very different circumstances than you.