Chapel at Messiah College
Chapel at Messiah College is a central expression of our identity as a Christ-centered community with a deep commitment to spiritual growth and academic excellence.
It is a required opportunity that exposes you to various forms of worship, speakers and ideas. Chapel affirms our common commitments while reflecting and challenging our individual preferences in style.
Though we hope you will be challenged in your faith through chapel, we realize that spiritual nurture is ultimately a function of each person's will, preference and responsibility and cannot be subject to requirements.
Chapel is offered on Tuesday morning, Tuesday evening and Thursday morning and is designed to foster biblical literacy and faith formation within the Messiah College community.
Some chapels are marked by dynamic student-led worship music, prayer and a brief message from a speaker who range from our student chaplains, to campus pastoral staff, to academic scholars, to notable leaders and professionals from outside organizations. In the past, we have hosted people like best-selling authors Eric Metaxas, Helene Cooper and Bruxy Cavey; scholars and community leaders such as Emmanuel Katongole; and many others.
Some chapels feature a more intimate, contemplative setting of worship and intellectual reflection on the Christian faith and life.
Still other chapels offer a small group atmosphere in which students commit to meet for six weeks to discuss and explore a specific topic or book or learn about and engage in a spiritual discipline. These chapels are led by Messiah educators and other invited guests.
And Messiah offers plenty of other worship opportunities. You can get involved in small group ministry, participate in student worship teams, lead service projects and explore your Christian faith with your peers and professors both one-on-one and in communal campus worship.
Students are expected to attend 14 approved chapel opportunities each semester. You are free to choose the chapels in which you will participate to fulfill that requirement. For all chapels, you will record your attendance electronically with your student I.D. card.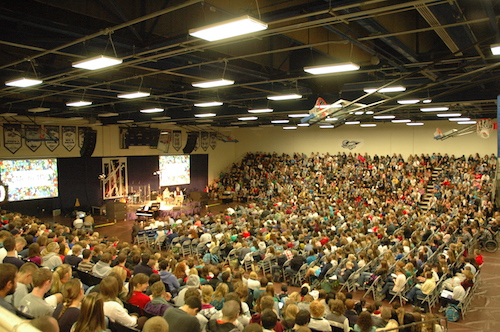 Chapel Facts
Find our more about Chapel at Messiah College