Advantages of dual enrollment
By earning dual-enrollment credit, you won't just be preparing for college, you'll be getting a head start on your academic and career goals before you even get there.
Create a more flexible schedule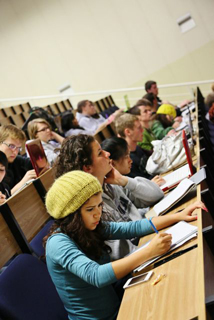 Earning college credits in high school can help create a more flexible schedule as a college student by freeing up more time for your other academic or extracurricular interests. And because Messiah University is an accredited institution, academic credits earned in our dual-enrollment program can be used here or transferred to other accredited colleges and universities.
Save on future college expenses
There are several ways that dual enrollment can help you and your family save on future college costs.
Benefit from discounted per-credit rate Not only are you paying today's rate for college credits you would need in the future, but at Messiah, we significantly discount our cost per credit for dual-enrolled students.
Strengthen your potential to graduate from college early Graduating from college in three years enables students to start their careers or graduate school ahead of schedule while significantly lowering the expense of a traditional four-year degree. If you are considering this option, dual enrollment can be a critical element in pursuing a three-year college experience. (Learn more strategies and advantages of earning a degree in three years at Messiah University.)
Experience college life
Our dual-enrollment courses are taught by actual college professors. Whether you take dual-enrollment classes on campus, online, or at your high school, you will experience the same curriculum and learning environment as Messiah's undergraduate students, where your unique perspective is encouraged and valued. Plus, you'll be able to explore different courses and areas of interest that can help make choosing a major easier when the time comes.