Messiah University offers several options for dual-enrollment courses-select what works best for your schedule and learning style.
At our Mechanicsburg campus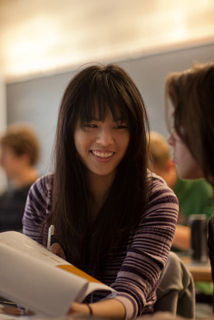 During the fall and spring semesters of each academic year, Messiah University offers dual-enrollment courses at its main campus, located in Mechanicsburg, Pa.* This option provides a traditional collegiate classroom experience with face-to-face interaction with professors and classmates. Following the registration of Messiah's undergraduate students each term (fall and spring semesters) the University makes remaining class openings available to dual-enrolled students. For a list of suggested/recommended on-campus courses, contact Matt Reitnour at mreitnour@messiah.edu.
View semester dates and application deadlines for dual-enrollment classes.
*If you take an on-campus course, you must provide your own transportation to and from campus. Please consult with your guidance counselor to ensure that the class time does not conflict with your other academic schedules and requirements.
Summer online
Messiah University encourages students to live and learn during the summer. Our summer online undergraduate courses, which are offered in two distinct six-week sessions (May 16-June 26 and July 5-August 14), are available to eligible dual-enrolled students who are entering their junior or senior year and are at least 15 years of age. A list of the 2021 summer online courses, with designations for those recommended for dual enrollment students, can be accessed by clicking here. For further information, including a course demo, check out Messiah's undergraduate online website.
Spring semester online courses
In addition to traditional face-to-face classes on the Messiah campus, we also offer opportunities for dual enrollment students to take online courses during the fall or spring. Some of these courses are designated solely for dual enrollment students, while others are open to Messiah undergraduates as well.
The following courses will be offered online during the spring 2022 semester:
COMM 105 Fundamentals of Oral Communication
EDUC 203 Educational Psychology
ENGL 160 Introduction to World Literature
HIST 141 US History Survey to 1865
SOAN 101 Principles of Sociology
SPAN 101 Fundamentals of Spanish I (8-week course from 1/10-3/4)
SPAN 102 Fundamentals of Spanish II (8-week course from 3/14-5/5)
SPAN 201 Intermediate Spanish
STAT 269 Introductory Statistics (8-week course from 1/10-3/4)
Please discuss course selection with your guidance counselor to ensure that it meets your specific requirements for high school graduation. All students must apply online for dual enrollment before registering for individual classes.
Questions about dual enrollment? Contact Matt Reitnour at mreitnour@messiah.edu.