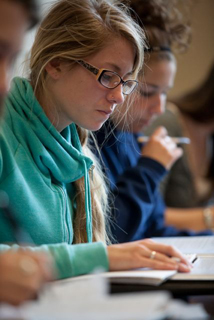 At Messiah University, high school juniors and seniors are eligible to apply for dual enrollment. We welcome dual-enrolled students from public, private, charter, home and **cyber schools.
Dual-enrollment eligibility requirements
If you are a high-achieving high school junior or senior of at least 15 years of age, you are eligible to apply for dual enrollment. To enroll in a Messiah University dual-enrollment course you must meet these eligibility requirements:
Entering, or currently in, your junior or senior year of high school and at least 15 years of age at the time you will be participating in the dual-enrollment course
Demonstrate a GPA of 3.0 or higher on your high school transcript
Provide a positive recommendation from a teacher and/or guidance counselor*
Submit a Parent/Guardian Permission Form*
Satisfy the prerequisite requirements, if any, for the specific courses in which you seek to enroll
*Access to these forms will be made available through the application. If you have any questions, contact Matt Reitnour at mreitnour@messiah.edu.