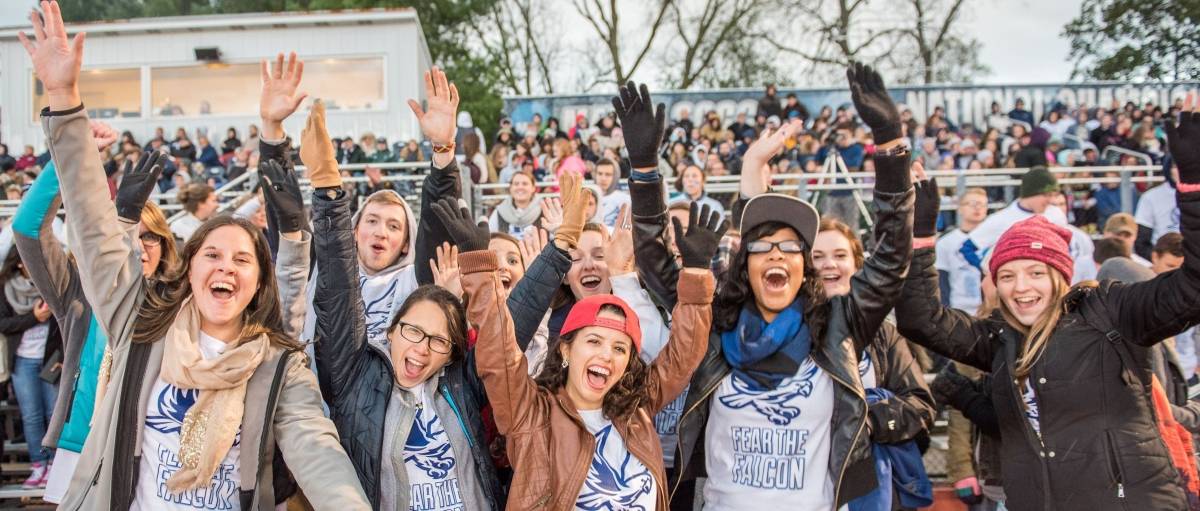 The Messiah Fund
We believe that the college experience should be transforming. We believe in equipping people to navigate life's tensions and bring about reconciliation in our world today. We believe in Christ centered education.
When you support the Messiah Fund, you support every student on our campus and everything they'll experience during their time here -- from study abroad programs to service and missions trips impacting the community, your gift makes Messiah's Christ-centered, academically rigorous education possible for our students.
Each year, a dedicated group of Messiah students calls thousands of alumni, parents, and friends on behalf of the Messiah Fund. During each calling session Phonathon callers:
Raise funds that directly impact current students by helping to keep tuition rates affordable
Keep alumni connected by collecting family, career and service updates for publication in The Bridge
Update address, phone, and email information so our donors receive important College communications
Share news from campus
Receive and record prayer requests
At our We Love Messiah on campus event, we create an opportunity for students to learn more about the impact of giving. During this event, students get the chance to both celebrate the impact of giving, as well as say "thank you" to our donors!
Our seniors are asked to give a legacy gift to the Messiah Fund during their senior year here at Messiah. We ask them to give because we want them to join in the tradition of giving back to the generosity from which they have already benefitted. It's the perfect way for them to celebrate their graduation and begin their journey as an alumni of Messiah College.
Each year, Messiah College is privileged to welcome alumni back to campus to celebrate their reunion during Homecoming. Reunions are a wonderful opportunity to reconnect with classmates and friends, relive special memories, and renew a relationship with Messiah.
Reunion gifts are given by the 5th, 10th, 15th, 20th and 50th reunion classes and provide a special opportunity to give back to the College as a unified class. Reunion classes work together to present a significant class gift to the College, which expresses appreciation to the College for the education that was received many years ago while simultaneously leaving a legacy for the next generation of Messiah College students.
At Homecoming 2016,  reunion class gifts will be presented by the following classes:
2011 - 5 Year Reunion
2006 - 10 Year Reunion
2001 - 15 Year Reunion
1991 - 20 Year Reunion
1966 - 50 Year Reunion
Messiah College thanks our Corporate Partners who provide gifts of at least $1000 per year. Your support enables our students, employees, and alumni to make a positive difference in our region, the nation, and the world.
 

Ambassador Foundation

American Endowment Foundation

American Society of Civil Engineers Central PA Section

Association of Independent Colleges & Universities of PA

Baker Tilly Virchow Krause LLP

The Beacon Charitable Foundation Bingaman & Son Lumber Co. Boustead Family Foundation

Brethren in Christ Foundation

Brown Advisory Charitable Foundation Inc.

Calvin College

CAP Collective LLC Cardone Industries Century Engineering Inc.

The Chatlos Foundation

The William Chinnick Charitable Foundation Inc.

The Clark Associates Charitable Foundation The Clemens Family Corporation Community Aid Inc.

Council of Independent Colleges Crabtree, Rohrbaugh & Associates Inc. Doorstep Ministry Foundation Earth, Turf, & Wood Inc.

Ernst & Young Foundation

Esbenshade Foundation Feeser's Inc.

Fidelity Charitable Gift Fund

The Foundation for Enhancing Communities Four Seasons Produce Inc.

John E. Fullerton Inc.

Fulton Bank

Furmano's Foods

General Electric Foundation

Greenfield Architects LTD

John Gross & Company

Guardian Life Insurance

Hahn Family Foundation

Higher Information Group LLC

Highmark Blue Shield

Hoober Incorporated

Horst Insurance

Lawrence L & Julia Z. Hoverter Charitable Foundation

Technology Solutions

The Isaac Family Foundation

Johnson & Johnson Family of Companies Kemper Corporate Services Inc.

KPMG LLP

Kung Charities Inc.
Lacher & Associates Insurance
Larsen Foundation
Lebo & Reed Real Estate Partnership
Lilly Endowment
Lincoln Financial Advisors
Lockheed Martin Corporation
Louisville Institute
M & T Charitable Foundation
Marketechs
Martin's Famous Pastry Shoppe
McCormick Family Foundation
McKonly & Asbury LLP

 

Mechanicsburg Area Foundation
Mennonite Economic

Development Associates

The Mennonite Foundation Inc.

The Merck Company Foundation

The Metzler Family Foundation

Microsoft Corporation

Morgan Stanley Global Impact Funding Trust Inc.

Mountaineer Farms LLC

National Christian Foundation

NCAA

Norfolk Southern Corporation

PA Chamber of Business and Industry

PA Department of Environmental Protection

Pennsylvania Power & Light

Pennsylvania State University

The Pennsylvania Trust Company

The Phillips Group

Premium Promotionals

Presbyterian Church in America

The Presser Foundation

T. Rowe Price Associates Property Management Inc.

PSECU

Raytheon Company

Reinsel Kuntz Lesher LLP

Residential Warranty Corporation Rhoads & Sinon LLP Salzmann Hughes P.C.

Sawyer Products Schwab Fund for Charitable Giving Scott Electric Foundation Inc. The Sedwick Foundation

The Joseph T. & Helen M. Simpson Foundation

L.B. Smith Estate Foundation Inc. Soccer Shots Franchising LLC

The Stabler Foundation

The Standard

Stover Family Foundation

Susquehanna Bank

Thrivent Financial for Lutherans Turkey Hill Dairy UGI HVAC Enterprises Inc.

United Service Foundation

United Way of Delaware

Univest National Bank & Trust

The UPS Foundation

Valparaiso University Warrell Foundation Webstaurant Store Inc.

The Franklin H. & Ruth L. Wells Foundation

The Whitaker Foundation

Willow Valley Associates Witmer Charitable Foundation World Vision Inc.

Xoom Energy LLC

York County Community Foundation

Anonymous Donor (1)