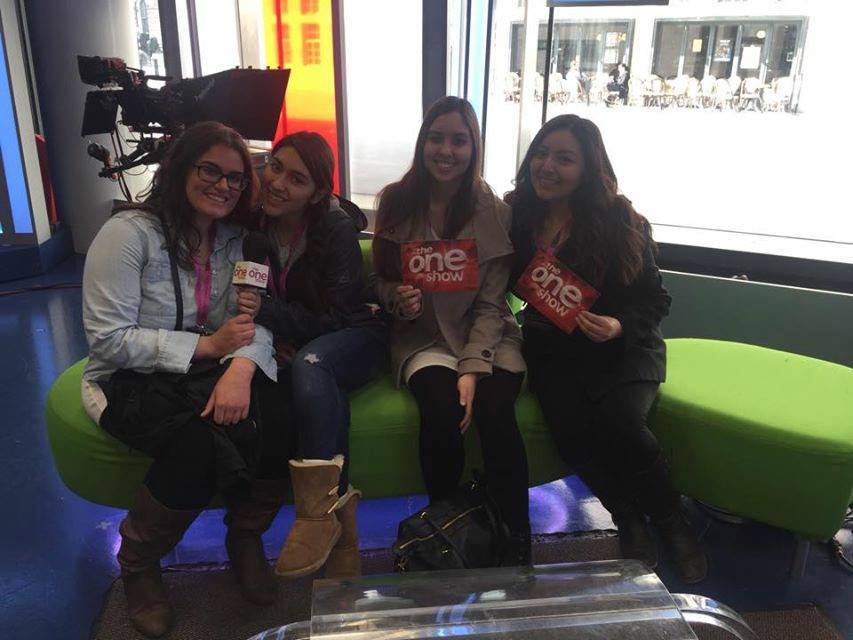 INTERNSHIP: When in London: Study Abroad Brings Dream Internship, Life-long Lessons
April 22, 2016
Backpacking in Italy and Greece, attending Fashion shows in England, free beauty products…and an exciting internship to top it all off? Jennifer Morgan '16 spent a semester abroad in Chelsea, London working as the public relations and editorial Intern for Amazing PR, a beauty and lifestyle agency.
Morgan chose to study overseas for her junior year spring semester through Arcadia University. The university's staff in London matched Morgan with an internship in her specified areas of interest: beauty, fashion and lifestyle.
"Amazing PR was the placement chosen for me," explains Morgan. "I had to approve of the choice and send in a writing sample to the founder. She loved it, and accepted me as an intern without interviewing me."
Pursuing passion through the internship
Throughout the internship, Morgan's main responsibilities included editing and writing for the agency's blog, contacting brands for products, retrieving incoming product mail, and sampling luxury makeup and skincare products to write reviews. "It was so awesome to finally be working in the industry that I want to be in firsthand," says Morgan. "My work days flew by, and the work I produced was top notch because I sincerely loved what I was doing. This passion really helped me as I've been networking and deciding what I want to do after graduation."
Morgan also received the opportunity to test and rate beauty products, for one of the company's most prestigious clients. "One my favorite parts of the internship was when I got to be a judge in the Beauty Shortlist awards. Not only did I receive so many free products, but I finally felt like my boss was trusting me," explains Morgan. "The woman who runs the Beauty Shortlist awards is one of our clients, so I knew my boss takes the company's reputation with her very seriously. It was a big responsibility, but so rewarding."
Adjusting to life in Chelsea
During her stay in England, Morgan lived in an apartment with other students from the United States. "We lived in Redcliffe Gardens, a cute street within Chelsea, London. The neighborhood we were surrounded by was very upscale and very safe, so I felt so fortunate that I was able to live in that specific house that Arcadia provided as part of the program fee," says Morgan. "Another blessing was that my internship was a 10-minute walk from my flat. This saved me a ton of money on transportation."
The initial adjustment period required more time and energy than Morgan originally expected. "I was tested mentally, physically, financially, spiritually ¾ you name it," explains Morgan. "I also knew I'd have some culture shock. I didn't expect it to be too dramatic, since they still speak English, but it was definitely still different. So, giving myself some grace and remembering that I was in a foreign country was a learning process."
Clarifying career choices
As a student majoring in journalism, Morgan's previous internship experiences included online publications and magazines. However, Amazing PR gave Morgan the opportunity to explore and develop her interest in the public relations profession.
"The most exciting part of my internship was gaining more PR experience. Even though most of the work I did was editorial-based, I liked having experience at a PR agency," says Morgan. "Now I have a more positive impression of the field and would be willing to work in PR after graduation, rather than just in journalism."
Morgan found that many skills and professional approaches she learned from her pervious work experiences helped prepare her for the intense, fast-paced work environment she encountered in London. "It was challenging to have such a demanding internship in a brand new culture, but it taught me so much more than anything else I would have learned in the classroom," explains Morgan. "It finally felt like I was a working professional, so there was a lot of pressure to make sure I was on my A-game all the time. If my supervisor didn't like something, she wasn't afraid to say it, so I always wanted to please her in my work."
Growing through lessons learned
Morgan's experience abroad offered a broad range of unique and unforgettable experiences. "I met some amazing friends through the internship, received a ton of free stuff worth thousands all together and got to attend some luxury events in London," she says. "My roommates and I also went backpacking in Athens and Rome during our semester; I had a week's worth of supplies in one small backpack."
Interning overseas came as both a challenge and a blessing for Morgan, allowing her to grow both personally and professionally. "If I had to sum up London, I would say that it allowed me to grow in every aspect of my life. The most valuable lessons I learned were to be flexible, to be open to new experiences, to always work hard and give 100 percent, and to make the most of every moment," says Morgan. "It was a really tough experience for me in every way, but I'm so happy I did it and I wouldn't change the experiences I had for the world. London was the perfect start to 2015 and one of the best ways to enter into the world of adulthood."
-Lisa Monteiro '17