Challenge Course
Messiah College has an extensive challenge course spread throughout three locations on campus. At our Creekside and Ridgeline locations we have twelve permanent low elements with options for numerous portable elements. Our high courses consist of five dynamic belay elements and a series of 14 static belay elements.
Paddling Resources
The Yellow Breeches Creek, one of Pennsylvania's thirteen designated "Scenic Rivers," flow through campus providing instant access to paddling. A "paddle lab" located on campus just upstream from the covered bridge, was incorporated into a stream restoration project by strategically placing large boulders to create an area where students can practice paddling maneuvers such as eddy turns, peel outs, and ferries. The creek meanders for 20 miles from campus before emptying into the Susquehanna River just south of Harrisburg.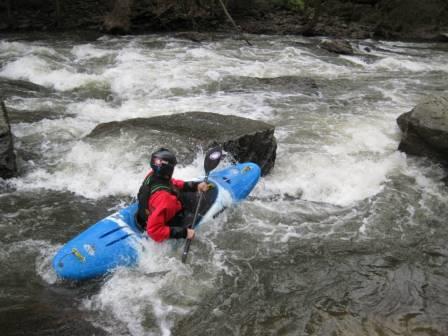 An Adventure Education major developing his skills on the Class II - III Codurus Creek
There are numerous other paddling areas near campus. Gifford Pinchot Lake is located 12 miles from campus and is great for flat water training. The Susquehanna provides many paddling opportunities from gentle moving water, to the Class II Dauphin Narrows, to the class III and IV play spots at Holtwood Dam. Other nearby whitewater includes Codorus Creek, Muddy River, Lehigh, Stoney, and the Nescopeck.
Climbing Resources

A bouldering wall is located on campus in the garage at the LOFT providing space for students to hone their climbing technique. Opportunities to climb on real rock are within easy access of Messiah. White Rocks Acres is located 7 miles from campus and is a great area for beginners and intermediate rock climbers. Pole Steeple, Shaffer Rocks, White Rocks Pond Banks, and Purgatory are climbing areas located in Michaux State Forest which is about 30 miles from campus. Whisky Springs offers a plethora of bouldering problems. Multiple pitch trad climbing can be found at Chickies Rocks and the recently reopened Safe Harbor offers premier sport climbing. All of these areas are within an hour of Messiah's campus.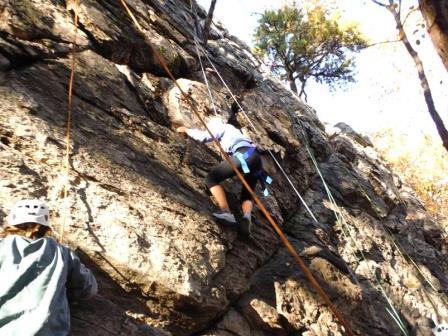 Caving Resources
Geologically, Messiah College is located in karst region which is an area that is conducive to cave formation. There are numerous caves in the area and some ADED students and alumni are very active in the local grottos (cave clubs). Two caves, Lisburn and Carnegie, are used extensively by Messiah's Outdoor Club and for ADED courses. Caving is a unique type of adventure activity that we include in our programming because we have easy access to this intriguing aspect of God's creation.
The Appalachian Trail runs within 7 miles of campus providing access to over 2,000 miles of trails. The mid-point of the AT (which moves annually as various sections of the trail are rerouted changing the overall length) is located near Pine Grove Furnace State Park, just 20 miles from campus. Additionally, Messiah's location in South Central Pennsylvania allows for easy access to numerous state parts, state forest, state game lands and trail systems.