Adventure Learning Institute
Responsible for coordinating and providing opportunities for team-building and leadership development to off-campus groups, the Adventure Learning Institute at Messiah University serves a variety of groups and works to design an experience targeted towards the needs and goals of a specific group. Groups can not only expect to have fun together participating in a wide-range of activities, but also grow in their relationships with one another as they engage important topics related to their group.
Please e-mail Wendell Witter, Coordinator of Cocurricular Adventure Programs, for inquiries.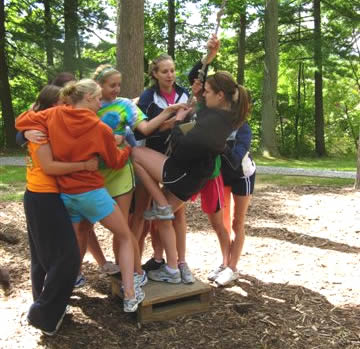 "Your facilitators did an amazing job! They were patient with us when we took forever to try to get all nine of us onto two bricks without stepping on the grass. They also asked good application questions. The other people who led the big group activities also did awesome. Everyone was very energetic and positive - your enthusiasm was contagious! You and your team always do an amazing job!"
"This experience really helps to bring the group to a higher level of understanding and comfort! Definitely the start of a strong relationship with staff. The Adventure Learning Institute provides great activities and a great staff! I feel like my staff got much closer and really learned a lot about each other today. An excellent program."