Wednesday, September 20, 2017
Category: News
Stephen Earp '16
Behind the scenes: Alumnus shares his experience producing content for CBS21 Harrisburg
By: Livia Ungurean
Producing six to nine daily promotions, highlighting the biggest stories of the day, and covering breaking news. That's a day in the life for Stephen Earp '16, promotions producer for WHP CBS21 Harrisburg, a Pennsylvania-based station and CBS affiliate owned and operated by Sinclair Broadcast Group. Working in affiliation with a mass media company, he also focuses on other promotions for the station, such as coverage of local events, celebrations, talent appearances and community outreach.
As a media, culture and technology graduate (now known as broadcasting and media production), Earp discovered that his experience at Messiah remains a blessing to his career path.
Earp finds that writing and editing are the greatest skills needed to complete his job as a promotions producer. "[Those skills] need to be performed under pressure. Sometimes there will be as little as a couple of minutes to write a piece and get it on the air. Plus, you have to have a good understanding of your market, and what matters to the people in it," he added. Earp highlights the importance of serving the audience and verifying that the reporters and anchors receive the best possible information, video and sound.
He recalls one of his favorite stories, covering inside the mind of robbers. Earp and his team covered a safety story in a unique aspect. Rather than approaching the story from a safety and security prevention standard, the team tried to break into a home (with permission) and showed how simple fixes could have stopped a robber's break-in.
Using up-to-date technology allowed Earp to make a smooth transition into his career. He reminds students that they should take full advantage of the facilities at Messiah College. In addition to internships, the television studio and Pulse facilities are great exposure to quality equipment at your fingertips.
FUN FACT: "I love all different kinds of music, from classic country to pop and everything in between. You never know what I may play next. "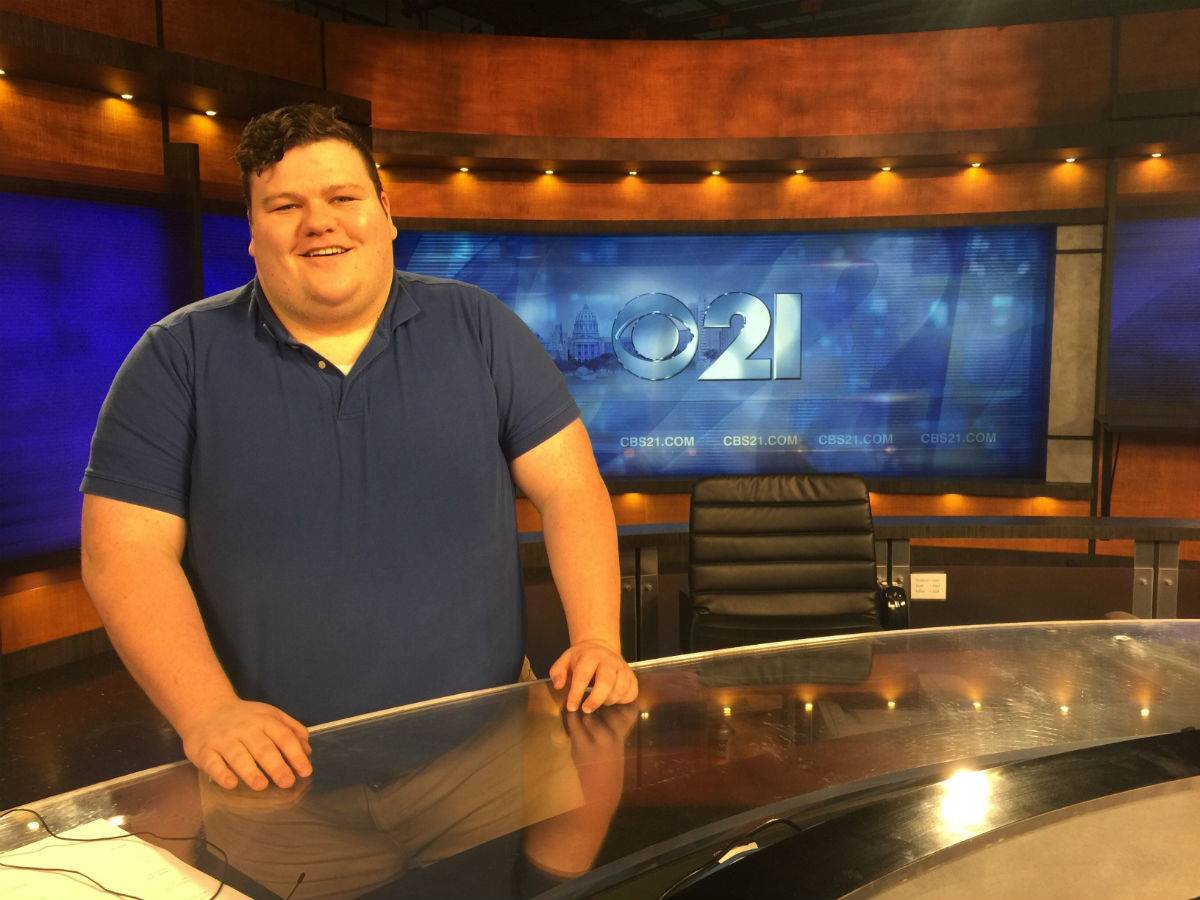 Earp says, "Messiah College prepared me really well. I learned all about writing and editing. My professors were really knowledgeable and gave me a big head start. I also was blessed to use the TV studio on campus. It was great to have that exposure, I knew how to work in a studio before ever stepping into a real one. Messiah's studio was as close to the real thing as you can get without going into a real TV station."
Earp grasped many skills while attending Messiah College, and continues to use his foundational knowledge in his career path. Reminding students that college facilities give best hands-on learning, students interested to learn more about broadcasting and media production should visit here.