Friday, April 13, 2018
Category: Academics
Cooking plants and gaining experience: Messiah's special take on exploratory studies
Molly Martin '19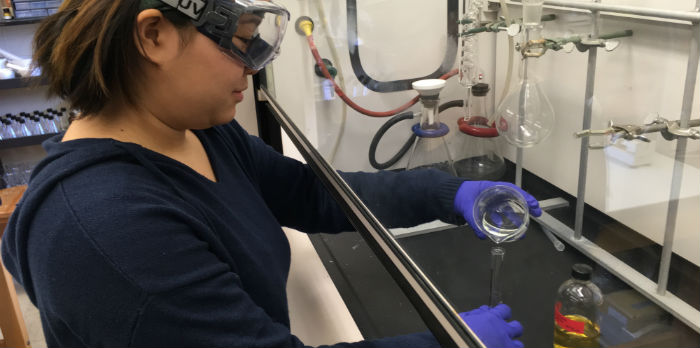 Abigail Hing '18, a biochemistry student, was deep in thought. Her research project needed modifications and she was not thinking about quitting anytime soon.
Cooking plants for science, Hing and a collaboration of nutrition and dietetics majors, including Danielle Hepler '18, Sharon Kauffman '18, Tjia-ern Lau '18, and Mallory Ziegler '18, are attempting to measure cyanide. It is a chemical compound that is released when cooking and eating Chaya plants.
Cnidoscolus aconitifolius, commonly known as Chaya, is a large shrub that most likely originated in Mexico. Chaya grows fast in poor soil and is relatively nutrient rich, making it a good agricultural candidate when it comes to planting on ground which as recently experienced mudslides. In some places, it could be just about the only thing people have to eat.
Chaya, like flax, cassava and lima beans, is one of the many food plants that release cyanide when consumed. When consuming large amounts of these foods, food preparation to reduce cyanide exposure is important, as is understanding how to prepare this food in ways that reduce cyanide exposure to those who eat it.
The work is being done in the laboratories of Messiah College, a private Christian college located in central Pennsylvania.
"We are interested in developing and validating reliable and more "user-friendly" methods to analyze cyanide in Chaya leaves," explains Dr. Kathryn Witt, a professor of nutrition and dietetics.
Witt began the primary proposition for the project after ECHO, a Christian organization seeking to honor God through sustainable hunger solutions, contacted her. Like many professors at Messiah, Witt brings real world situations and experience into the classroom. She also spent time as a volunteer consultant at ECHO.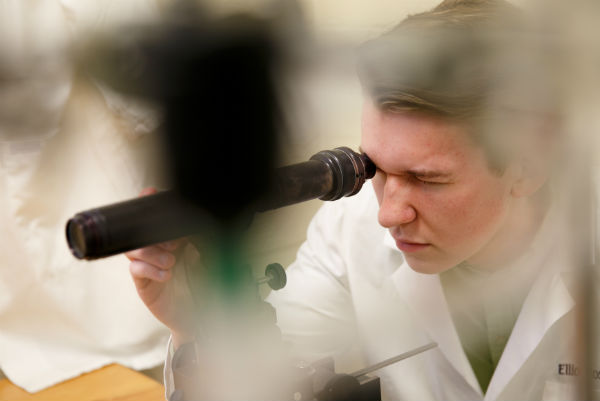 "Seeking the answers to questions that impact people's lives is the main reason I am a college professor. Pursuing these questions with interested students is even more satisfying," Witt added.
Similarly, Dr. Richard Schaeffer, professor of chemistry, shares that his role in mentoring students is in an apprenticeship of sorts. Students learn science by doing science and seeing scientific practice modeled by faculty. As they learn, they grow more independent. "Ideally, by the time students are seniors, they take significant ownership of a project to interpret data, solve problems, suggest next steps and (ideally) co-author papers," he says. "My role includes helping students persevere through the inevitable challenges and setbacks associated with research."
Hing found her way on board through Dr. Roseann Sachs, chair of Messiah's Department of Chemistry and Biochemistry, because the department knew about her interest in the area of food science. Messiah's small class sizes (about 20 students to a class) allow for relationships between students and professors to form—and those relationships create a valuable network. These connections revealed not only a research opportunity for Hing, but help along the way, as well.
Finding a relatively inexpensive, safe and reliable method to measure cyanide in a food has been a major challenge and collaborative effort. Schaeffer's expertise in analytical chemistry has been a tremendous help to the nutrition students, who began the project using colorimetric paper. The paper is specially treated and turns blue when exposed to cyanide, but it does not provide a precise measurement of the amount of cyanide present. Designed more for liquids than leafy vegetables, sometimes the paper proposes a challenge to the team. Schaeffer and Hing are working on a method using an ion chromatograph, which will provide more precise measurements. Steve Funck, the lab manager for the natural sciences, also helps the research team navigate the safety concerns and minimize the waste generated by the project.
Working through trials, such as the way the ion chromatograph instrument was suppressing the cyanide and an inconsistency between samples, the team's research has required multiple modifications and teamwork. But with challenge comes great opportunity.
Similar to Hing's experiences working with multiple professors and students, Messiah's Collaboratory offers research opportunities and hands-on experience. Teams of engineers, as well as a variety of students across the disciplines, can get involved in the 36 different interdisciplinary projects. Currently, a group of biomedical engineers is working to print 3D prosthetics in collaboration with doctors in Kenya. In January, a group of students went to Ghana to help build waste systems.
From research projects across Messiah's School of Business, Education and Social Sciences, the School of Science, Engineering and Health, School of the Arts and the School of the Humanities, there is a way for students to get involved in real-world applications.
Almost universally accepted in the academic world, undergraduate research makes students better candidates for the workforce. Research is not restricted to the sciences, however, and involves more qualitative and language-based studies—such as Messiah's English majors.
The places you will go
Beginning research in composition theory during her sophomore year, Kaitlin Wingert '18, an English major pursing a teaching certification, has studied connections between the body and writing. In February, she presented her honors project "The Athlete's Journal: Composition Theory in the Arena of Competitive Sports."
Wingert's multidisciplinary research explores the connection of writing and athletics. In response to the scarcity of research on writing and athletic performance in composition studies, she conducted her own qualitative study of Messiah College student athletes.
Composition Theory Professor, Dr. Jean Corey, oversees the research projects of many students and enjoys watching them move on to graduate schools and careers.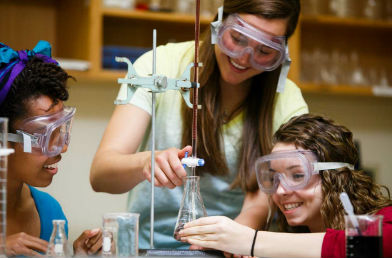 "These are scholars – but I think the beauty of undergraduate research is that students who never considered themselves "scholars" discover the thrill and the power of research well done and well invested to transform the world around them," Corey explained.
Emily Smetak '17, a math and English major currently studying public policy at William and Mary, used her undergraduate research to write her application essay on world languages and development. She also had the privilege of serving as the work-study for David Dzaka, associate professor of English, which she says shaped her understanding of the importance of language in international development. Alexis Jackson '13, an academic activist now earning her MFA at Columbia, researched black vernacular language and rhetoric during her time at Messiah. These studies served as her application essay and helped her pinpoint her work in grad school.
Charity Roberts Stowall '11 was an English major that pursued her passion for immigration justice through her writing projects in Advanced Writing. She is now working for Catholic Charities Refugee Service. History alumna Christina Thomas '14 says the work she did with her mentor Bernardo Michael, professor of history, shaped her calling as a black woman historian; she is now a Ph.D. candidate at Johns Hopkins University in Baltimore, Maryland.
Getting Involved
Research opportunities at Messiah College are readily available. Students are afforded hands-on opportunities to apply their skills and serve others. They can be found meeting, conducting research and producing advertisements with real companies like FCA Lacrosse. Messiah offers opportunities that provide experience and build resumes. These experiences, in studies about cyanide or immigration justice, lead to careers in the future. In fact, 98 percent of Messiah graduates are employed or accepted into graduate program within six to nine months after graduation.
Professors love to mentor their students, which is a key component to undergraduate research and getting involved. All students are given an advisor in their department who becomes an important first step in the process of networking and finding research prospects. From connecting with other professors in the department, to student programs like the Collaboratory, smaller independent groups, and entering the humanities symposium—if you have a passion, you're in!
"I think that Messiah College has really great opportunities. I especially like the collaboration that the departments offer," shares Hing.