Tuesday, May 1, 2018
Category: New programs
Messiah College announces new financing model to align cost of education with student outcomes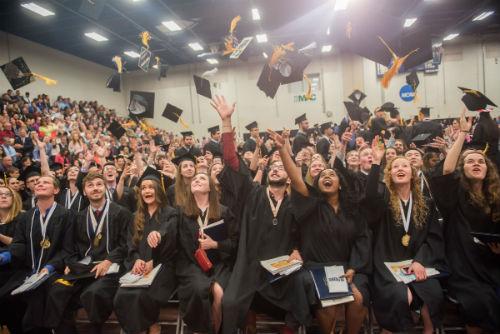 Messiah College today announced that beginning June 1, 2018, students will be able to pay for a portion of their education with a new financing model designed to align the cost of college with students' career outcomes after graduation. Known as an income share agreement (ISA), the new program will reduce the up-front cost of tuition in exchange for a set percentage of students' income after graduation over a set period of time.
Founded in 1909, Messiah College serves more than 2,700 undergraduates and has been recognized by U.S. News and World Report, The Wall Street Journal, and the Princeton Review as a top college in the northeast. Under the terms of the college's ISA program, participating students will pay between 3 - 3.5% of their post-graduation income for a set period of time. Payment will be waived for Messiah graduates whose annual salary is less than $25,000, alleviating the burden of payment for those who make less than expected after graduation. In addition to serving Messiah Collegeundergraduates, income share agreements will also be available to graduate students in the occupational therapy and physical therapy programs.
"The Messiah College community is committed to preparing students for lives of service and leadership," said Dr. Kim S. Phipps, president of Messiah College. "Because income share agreements adjust the amount of payment depending on income, our new ISA program will increase access and affordability for both current and prospective students, and enable our graduates to pursue their chosen career path without the anxiety that so often accompanies student loan debt."
Messiah College's new ISA program will be designed by Vemo Education, an education technology company that partners with higher education institutions to develop, launch and implement income share agreements. In 2017, Vemo powered $23 million of ISAs at a cross-section of colleges, universities and other education institutions, including Purdue University, Lackawanna College in Pennsylvania, and Clarkson University in New York.
"Rising costs and skyrocketing debt have put higher education out of reach for too many students – particularly lower-income and nontraditional students for whom higher education is a critical driver of economic mobility," said Tonio DeSorrento, Founder and CEO of Vemo Education. "Messiah College is joining a community of higher education innovators pioneering a new approach to student finance that can build college-going aspiration and better align the interests of students and institutions."
In partnering with Vemo Education, Messiah College is one of the first two private colleges in Pennsylvania to launch an ISA program after the model was recognized by the Association of Independent Colleges and Universities of Pennsylvania (AICUP) as an innovative financing option for Pennsylvania's higher education institutions.
About Vemo Education
Vemo Education's mission is to help higher education institutions empower their students by developing customized, value-oriented student financing programs. Providing a full-service approach to its partners, Vemo has invested in the infrastructure required to design, price, originate, disburse and service income-based payment products. Vemo's management team has extensive experience in education finance and the financial aid sector. Learn more at www.vemo.com.