Wednesday, May 27, 2020
Category: News
A journey through time: How Nathan Simms '20 connected the present with the past
By Jake Miaczynski '20
Before leaving to study abroad in Spain, Nathan Simms '20 flipped through an extensive photo album of his late mother's time abroad. These pictures would be his guide.
"There are more than 120 photos in the album, and I tried to recreate them all," said Simms. He chose Spain for a number of reasons, but chief among them was to follow in his mother's footsteps.
Simms grew up in a bilingual home. When his mother passed away during his freshman year of high school, he says his love of the language continued to grow, as well as his desire to carry on her legacy.
"My mom's time studying in Spain was a turning point in her life," he said. "Now that I cannot ask her about her time there, I thought that seeing it for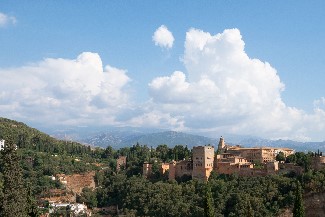 myself would help me connect with her memory and experiences."
Simms says he felt deep personal connections at places like La Alhambra, a Muslim fortress dating back to the late ninth century. "Standing there, in the exact spot where she once stood, helped me confront the uncertainty I feel as a new graduate," he said.
When his mother studied in Spain, she was a student then just as her son is now. "I'm sure she felt uncertainty when she was there, too," said Simms. "She didn't know that she would go on to have three sons and a step-daughter, that she would homeschool those three boys, that she would become a Christ follower or that Jesus would call her home 22 years later."
Simms says he realized that his mother managed to thrive while living with uncertainty, and that he can do the same.
As a double-ma
jor in film and media arts and Spanish, Simms loves to connect his two interests any time he can. In Sevilla, he knew he wanted to track down the places where scenes from the "Star Wars" prequels were filmed—another common love that he shared with his mom.
During his relentless pursuit to recreate the 120 photos, realized he needed to give himself permission to make his own memories, too. He said, "It's one thing to literally place myself in my mother's footsteps and try to connect with what she did, but if I don't stop and let myself live a little, then I'm just retracing a past without focusing on my present—you cannot truly live while chasing ghosts."
Simms plans to make his own photo album soon. "I'm hopeful that someday I'll be able to show both books to my own children," he said. "And just maybe, they'll add onto that legacy."