DUE TO THE COVID-19 PANDEMIC, MESSIAH UNIVERSITY IS CLOSED TO OFF-CAMPUS GUESTS FOR THE FALL.
Unfortunately, this means the Oakes Museum is closed to the public until further notice.
We are currently accepting registrations for the spring, but reserve the right to cancel if it is unsafe to reopen.
Museum Tours

"The tour leader did a fantastic job! The tour was interesting and funny. Thanks!"

- Visitor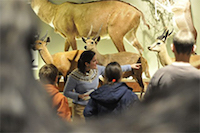 Groups of all ages are invited to experience an engaging, guided tour of the Oakes Museum of Natural History. Museum docents will guide your group through both the African and North American floors.
Museum tours are perfect for extended families, senior citizen outings, Sunday School classes, small groups, or clubs.
Tours can be scheduled during the week or on weekends.
The Oakes Museum of Natural History is handicapped accessible.
1.5 – 2 hours
Minimum of 15 participants, Maximum 50 participants
Museum admission pricing applies
Click here for Guidelines for Tours