Centennial Celebrations: Community Day and Century Picnic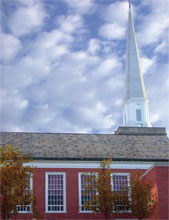 August 25, 2009
Community Day Gathering
10:00-11:30 a.m., Hostetter Chapel Sanctuary

Messiah College will launch the celebration of its Centennial with Community Day, the annual ceremonial opening of the academic year for the College's faculty, staff, and administrators. President Kim S. Phipps will share the "State of the College Address" and introduce the College's key objectives and priorities for the coming year. This important Messiah tradition is a meaningful time of worship, reflection upon the previous year, and a celebration of God's faithfulness to the Messiah community.

This is an employee-only event.
Century Picnic: 11:45 a.m.-1:00 p.m., Eisenhower Campus Center Lawn
Following the Community Day gathering, all Messiah College employees are invited
to enjoy a picnic lunch and live entertainment to launch the year-long celebration
of Messiah's 100th anniversary.

This is an employee-only event.