Centennial Class Profiles
In the fall of 2006, 736 new students joined the Messiah College community. This group of students was coined the "Centennial Class" by Messiah because of their expected graduation in May 2010 at the end of the College's yearlong Centennial celebration.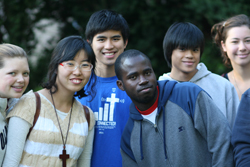 Throughout the Centennial year, we have introduced you to some of the members of the Class of 2010, individuals who truly embody the "enduring promise" aspect of the Centennial theme. These are academically excellent students whose commitments to the mission and values of Messiah College have earned them highest praise from educators, fellow students, and senior administrators. 

Before we introduce you to individuals in the Class of 2010, we thought it might be helpful to provide a quick overview of the whole class.
Centennial Class Overview
The Centennial Class was comprised of 265 men and 471 women when they enrolled in 2006. Nearly half of the students had graduated in the top 20% of their high school class; 24 of them were selected as their class' valedictorian!

The Class of 2010 encompasses 23 states and 17 foreign countries. A majority of the students came from right here in Pennsylvania, but a handful ventured east from California, Montana, Texas, and New Mexico.

The most popular majors for members of the Centennial Class include nursing, elementary education, biology, engineering, and sport and exercise science.  

Some fun facts about students of this particular age, according to the annual Beloit College Annual Mindset List: Students entering college in 2006 know "Big Brother" as a reality television show; know George Foreman primarily as a barbecue grill salesman; have always had access to weather reports 24-hours a day; grew up in minivans; and have always known rap and hip-hop as popular music forms.
Spotlight on Members of the Class of 2010
Jackyln vanArsdale

Major: Nutrition

Hometown: Silverdale, PA

Brian Allen

Major: Computer Science and Philosophy

Hometown: Stony Point, NY

Bethany Waldmann

Major: Computer Science and Mathematics

Hometown: Chester, VT

Daniel Glessner

Major: Music with piano and composition concentrations

Hometown: Mechanicsburg, PA

Rebecca Coover

Major: Social Work

Hometown: Carlisle, PA

Avery Johnson

Major: Human Development and Family Science

Hometown: Mifflinburg, PA

Jaime Emberger
Major: Chemistry
Hometown: Philadelphia, PA
Brittney Bailey
Major: Mathematics with a minor in Statistics
Hometown: Lancaster, PA
Jamie Edwards
Major: Music Education
Hometown: Romansville, PA
Kristina Schwarz
Major: Communications/Public Relations
Hometown: Blandon, PA
Annie Johnston

Major: Social Work
Hometown: Carlisle, PA

Gabe Fickett

Major: Biology with Teaching Certification
Hometown: Waukesha, WI

Alyssa Lord

Major: English

Hometown: Collegville, PA

Andy Derr

Major: Engineering

Hometown: Emmaus, PA

Information taken from Class of 2010 profile printed in fall 2006. While it cannot be assumed that the class looks exactly the same now, the profile provides a helpful general overview of the College's Centennial Class.