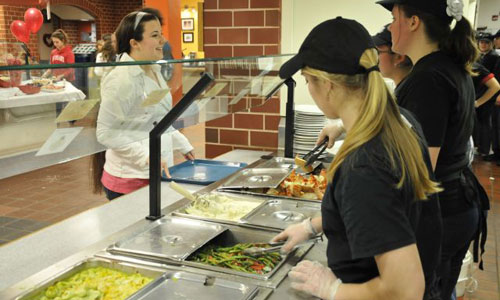 Lottie Nelson
Lottie Nelson, Messiah's award-winning cafeteria-style dining hall, is located on the second floor of Eisenhower Campus Center.

In addition to the full fare, the following items are available from 11 a.m. - 7:30 p.m. seven days per week:
bagels with toppings
assorted cereals
MYO waffles
soup du jour station
Grantham Grill (Mon.-Fri.)
sub station / deli
salad bar
dessert and soft-serve ice cream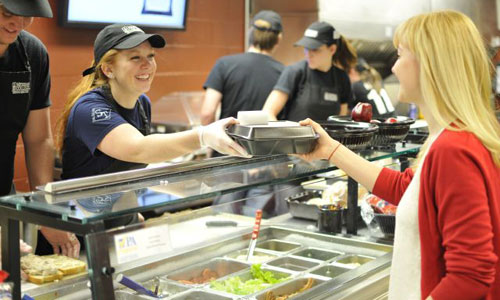 The Falcon
The Falcon is conveniently located near student mailboxes and the College bookstore. Located on the first floor of Eisenhower Campus Center, the Falcon is a great place to grab a coffee, a quick snack, enjoy a meal or meet with friends.
Hours
Falcon Express hours of operation during the school year are Monday through Friday 7 a.m. - 3:30 p.m., with some hours on weekends and during basketball games.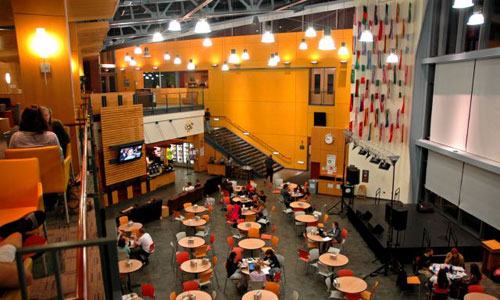 Union Café
Union Café, located inside the spacious, 35,000-square- foot student union, is the place to go for a smoothie, latte, espresso, pizza, salads, sandwiches, fries and more! Eat indoors or outdoors on the patio.
In 2011, The Union Cafe won a silver medal from the National Association of College and University Food Services!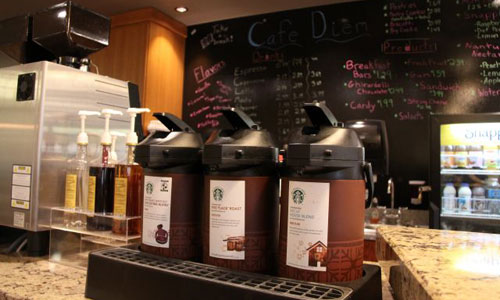 Café Diem
Café Diem is Messiah's coffee shop and is located inside Murray Library. Stop by for Starbucks coffee, tea, specialty drinks and "grab n' go" items!
The South Side Café is a student planned, owned, and operated business located in the basement of the Mountain View Residence building. The Café serves a variety of ice cream, milkshakes and other refreshments.