The Need
The Need within the School of the Arts
The School of the Arts is one of the fastest growing academic areas of the College. Between 1981 and 2007, enrollment in the School of the Arts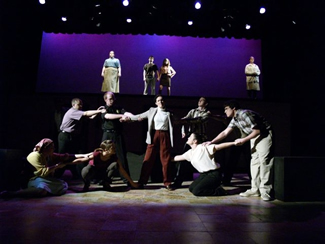 doubled, the number of majors tripled, and the number of full-time faculty also tripled. Optimum enrollment for the School of the Arts, expected to be achieved in the next five to seven years, will increasethe number of students majoring in the arts from 237 to 350.
The School seeks to foster excellence through artistic practice and rigorous scholarship. Built in 1981, our current arts facility, the Climenhaga Fine Arts Center, is utilized to full capacity and no longer meets the demands of our ever-expanding program.
The Need for Dedicated Worship Space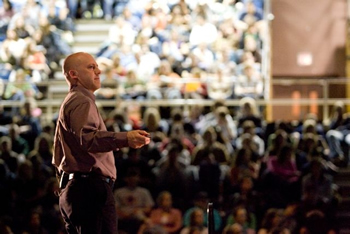 While the growth of the campus infrastructure over the last several decades is readily apparent, students still attend bi-weekly chapel services in Brubaker Auditorium – a large gymnasium. This recreational space is a difficult venue for worship and requires the continual "set-up and tear-down" of the stage and seating
– a time consuming and costly exercise. Although we will continue to use Brubaker for large chapel gatherings, a new Worship and Performing Arts Center will provide dedicated space for our many alternative chapel experiences (over 100 each semester), which will be a much more appropriate atmosphere for worship than a modified gymnasium.
"I've done performances with the symphony where we've used singers from Messiah. I think it's an amazing group of students that they've collected there. ...And so it's only appropriate that this hall would serve both as a music performance venue and as a place for worship. In a sense, the music performance is a form of worship at Messiah."
—Maestro Stuart Malina
Music Director, Harrisburg Symphony Orchestra
The Need for a Hospitality and Community Engagement Venue

Messiah College hosts numerous events on our campus for both the benefit of our students as well as the greater Harrisburg and regional community. These include lectures, musical concerts by nationally renowned artists, theatre groups, and public events such as the recently held bipartisan Compassion Forum, an unprecedented presidential candidate dialog that addressed pressing moral issues – e.g., poverty and international conflicts – that bridge ideological divides within our nation. These types of events contribute greatly to the overall quality of life in the greater Harrisburg region and require an appropriate host venue to ensure they achieve their maximum potential.