The Potential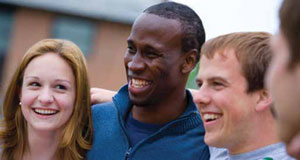 The construction of the Calvin and Janet High Center for Worship and Performing Arts will provide our students and faculty with a venue that will allow them to reach their full potential. Already, the accomplishments of our arts graduates and faculty are exemplary. The following represents a brief selection of achievements:
The Messiah College Concert Choir recently performed with the nationally acclaimed Harrisburg Symphony Orchestra, including masterworks by Vaughan Williams (Dona Nobis Pacem) and Beethoven (Symphony No. 9). The Concert Choir is under the direction of Messiah faculty member Linda Tedford and has toured throughout the United States and Europe.
"Messiah's music program has enriched me both as a musician and as an individual. Each of my professors has taken a personal interest in my achievement as a music student as well as my individual well-being. My knowledge of music and its many facets has grown immensely through my time at college. But more than that, I have come to see more clearly my own God-given talents and the ways in which I can use the gift of music to serve other people."
—Sarah Wingard
Class of 2011
Music Education Major
Alumnus Royce Saltzman recently stepped down from nearly 40 years as founding director of the Oregon Bach Festival in Eugene, Oregon. Each summer a series of concerts and master classes is held to commemorate the genius of Bach. The festival has been hailed as one of the most exceptional music events in the world and draws 35,000 visitors each year.
Current music department chair, Dr. William Stowman, conducted the All-Pennsylvania State Band at this year's conference of the Pennsylvania Music Educator's Association. The conference also featured performances by the Messiah College Wind Ensemble and Chamber Singers.
Messiah College Ensemble-in-Residence, the Mendelssohn Piano Trio, is one of the most accomplished ensembles in the national and international music arenas. Pianist, Ya-Ting Chang is from Taiwan; violinist, Peter Sirotin is from Russia; and cellist, Fiona Thompson is from England. The Trio is also Ensemble-in-Residence for Washington DC's "Embassy Series" and has performed and given master classes in a variety of venues nationwide and abroad. The Trio has been featured on the "Voice of America" radio program, and the Washington Post's Cecelia Porter has described the group's Brahms cycle of piano trios and piano quartets presented during the Embassy Series as "unfathomably beautiful," "transcendent," and "electrifying." The Trio's recent performance at the National Gallery of Art was broadcasted on NPR's "Performance Today" program.
Damian Savarino, senior lecturer in voice in the department of music, recently debuted at Carnegie Hall. Savarino was chosen by the production company Distinguished Concerts International New York to sing the bass solos in Joseph Haydn's "Lord Nelson Mass."
Our theatre faculty collaborate with a number of professional organizations, including Valerie Smith's work with Touchstone Theatre in Bethlehem, PA, and Tymberley Wittrig's scenic design work for the renowned Ohio Light Opera.
Alumnus and sculptor Shelly Bradbury received a commission to create a sculptural memorial to the "Old Man in the Mountain" in New Hampshire. Her design will feature five large granite sculptures that will re-create the outline of the famous profile damaged by erosion and the elements. The project will include the largest piece of granite ever quarried in the United States.
"Girl with a Mink Pelt," painted by retired art faculty member and portrait artist Catherine Prescott, was chosen to be displayed in the Smithsonian Institution's National Portrait Gallery in January 2007.
One can only imagine what will be accomplished by students and faculty who are given adequate space in which to cultivate their artistic abilities!