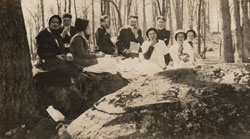 Early Picnic
Over the course of 100 years, Messiah has consistently upheld core values related to academic integrity and spiritual development. But it shouldn't be surprising that certain policies and practices regarding student behavior have changed.
The first student handbook, complied before 1925, looks a bit different than a present-day student handbook.
From the first student handbook
GENERAL RULES
Profanity, hazing, gambling, dancing, card-playing, the use of tobacco in any of its forms, and the use of stimulants and drugs are strictly prohibited.
The playing of chess, checkers, Flinch, and all games of like nature are strongly discouraged.
Firearms are not allowed in buildings, and hunting on campus is forbidden.
All students are expected to participate, to a reasonable extent, in literary, religious, social, and athletic activities.
Clubs and organizations of any kind will not be permitted except through faculty consent.
No student may be a member of a secret society.
The wearing of freshmen caps and pins is prohibited.
Reasonable order and quietness shall be maintained at all times in the corridors of all campus buildings.
No loitering in the administrative building's halls.
A period of quite shall be observed every Sunday afternoon.
Students guilty of improper conduct during religious services will receive demerit marks. The number of demerit marks will be up to the Council for Student Welfare.
WALKING LIMITS
All students are expected to stay within walking limits.  This means students must remain either on campus, the Minnemingo Trail (only to the first gate), through the Covered Bridge, in the town of Grantham, and the road leading to the store.

If a student wishes to leave the premises, he/she must leave a record of his/her whereabouts.
If a student wishes to travel by bus, train, or other means of transportation, he/she must have permission of the Preceptor/Preceptress.
No student, day or boarding, may leave campus during student period or after 7 p.m.
SERVICE ATTENDANCE REQUIREMENTS
Boarding students must attend at least two Sunday services.
Students must attend chapel every day.
Failing to comply to comply with these rules will result in the issue of demerit marks.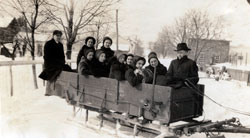 Early Sleigh Ride
DORMITORY RULES
The following study periods must be kept with the exception of Friday evenings:

8 a.m. – 12 p.m.
1:30 p.m. – 4 p.m.
7 p.m. – 9:45 p.m.

Students must attend a 10-15 minute prayer session in the dormitories every night.
No music may be played during study hours.
Lights out begins promptly at 10 p.m.
Students are not allowed to visit fellow students during study periods, except if the visit does not exceed 2-3 minutes.
Students are not permitted to call other students of the opposite gender.
Beds must be made and rooms must be tidied before 9 a.m.

SWIMMING AND BOATING RULES
Women and men are required to swim separately.
To swim, there must be at least three persons in the party.
SOCIAL INTERACTION RULES
Men are not permitted to visit/escort a woman without the permission of the Preceptor/Preceptress.
No social privileges will be granted to students under the age of 18.
Men and women will be allowed to spend time together for one hour, once a week.
Groups of students who wish to meet outside of campus boundaries must gain permission from the Preceptor/Preceptress.
VACATION RULES
If students leave campus in between terms but do not return home, they must inform the school of their whereabouts.
Students remaining on campus during such times must abide by all rules as though school was in session.
Summer school also requires that students follow normal school rules.
PARLOR PRIVILEGES
The parlor is available on weekdays from 6 p.m. – 7 p.m. for social gatherings, business interviews, piano playing, or singing.
SPECIAL RULES FOR GIRLS
At least three women must be in a group in order to travel off campus.
They may not leave buildings after dark without permission.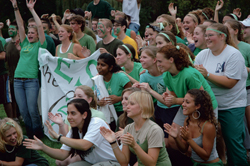 Freshman games
DINING ROOM RULES
All students must be on time when arriving and leaving the table.
Students may not leave the table without being dismissed.
A century later, student life looks a bit different at Messiah College! While chapel attendance is still required, visitation rules persist, and general behavior guidelines remain, current students have countless options in relation to how they spend their leisure time, including everything from swing dance lessons to videogaming to community service.