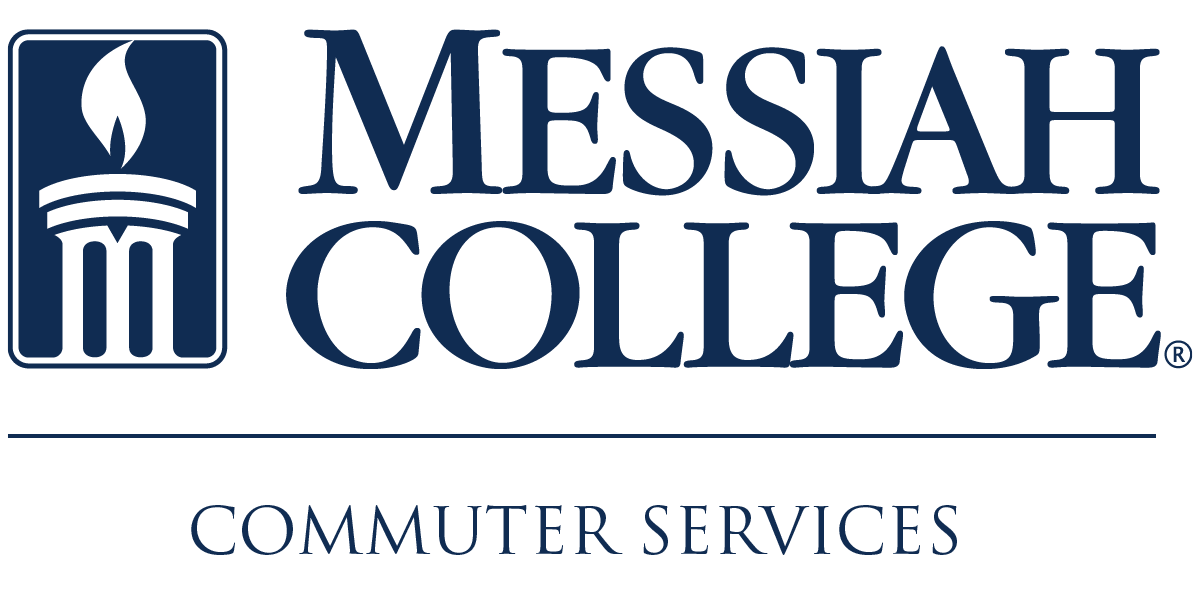 Because commuters are a vital part of the Messiah College community, there are commuter services available to help and support. Overseen by the office of Student Involvement & Leadership Programs (SILP), Commuter Services (located in Larsen Student Union) has a Commuter Student Liaison to help represent and address commuter needs, communicate relevant and timely information, and provide specific programming designed to enhance the overall commuter experience. This page is a great start for commuters wanting more information.
If you have any questions or concerns, please contact Julie Cline, Assistant Director of Student Involvement & Leadership Programs, who oversees Commuter Services. You can also contact Cate Cutting, Commuter Student Liaison and fellow commuter student. General commuter-related questions, concerns or suggestions may be e-mailed to Commuter Services at commuterservices@messiah.edu.
Brand New Commuter Student at Messiah?
You might be wondering that, since you aren't going live in a residence hall, you might not need to attend all the activities happening over Welcome Week. You're right ... sort of! We recommend and encourage you to attend as many events as you can (except the mandatory meetings for the residents living in the residence halls).
Click the grey "Commuter Orientation Schedule" box (above right) for our suggested commuter schedule.
Any questions on these sessions can be directed to the SILP office at 717-796-5240.
Commuter Lounge
We invite you to visit and relax in the commuter lounge. It's a great place to relax, study, or even catch a few winks!! It's located on the lower-level of Mountain View Residence Hall, located in the South Complex, and is reserved strictly for commuters. The lounge is open daily from 6 a.m.–12 midnight. There is free tea, coffee and hot chocolate for commuters, along with two microwaves, a sink, and a full-sized refrigerator. There's also a permanent computer and a nearby printer (located in the South Complex Learning Commons) available for use, as well as general office supplies. The building has wireless Internet.
The lounge also has lockers that you can reserve and use free of charge during the school year to store your things so you are not forced to lug them around all day. If you wish to reserve a locker, contact the SILP office at 717-796-5240 or silp@messiah.edu.
Get Connected, Get Involved!
If you're a commuter student, sometimes it takes a little more work to make connections. The easiest way to meet other students is to get involved in campus life. Student-run clubs and organizations have something for everyone. Be sure to come to the Student Club, Involvement & Service Fair on Thursday, Sept 6 (2018) from 5:30–8 p.m. at Larsen Student Union to get all the information you need. Also, check out Rec Sports where you'll find information about intramurals and other related physical activities.
What's Happening on Campus?
The Messiah College Events Calendar has all the latest happenings on Messiah's campus. By clicking on the event, you'll find a detailed description of who, what and when for anything that is going on at Messiah.
Checking your Messiah e-mail will also keep you in touch. We know that there are many forms of communication that students use, but e-mail is favored by faculty and staff and is used for many official Messiah College communications.
Your campus mailbox is also a form of communication between you and the community. Please check it frequently. You may receive graded material from professors through campus mail as well as U.S. mail.
Other great ways to stay informed about what's happening:
Commuter Parking
All undergraduate commuters must register for parking using the Student Parking Registration Form. Forms can also be found at the Falcon Exchange located at Eisenhower 243. Please return completed form to the Falcon Exchange located at Eisenhower 243 (open Monday through F 8:00 am to 4:00 pm). Visit the Falcon Exchange webpage for more details.
Commuter Rideshare Service
Want to save on gas and share your commute with other Messiah commuters? If so, we provide a rideshare application that can assist you in making connections with other commuters wanting that too. You must be a current Messiah College student to access the application. Click here to get started.
Weather Delays and Closings
Wondering if the snow or ice is causing a campus delay for classes? Will the campus even be open? You can sign up for Messiah text alerts and receive a text when decisions are made or call the emergency line at 717-691-6084. Sign up for text alerts here.