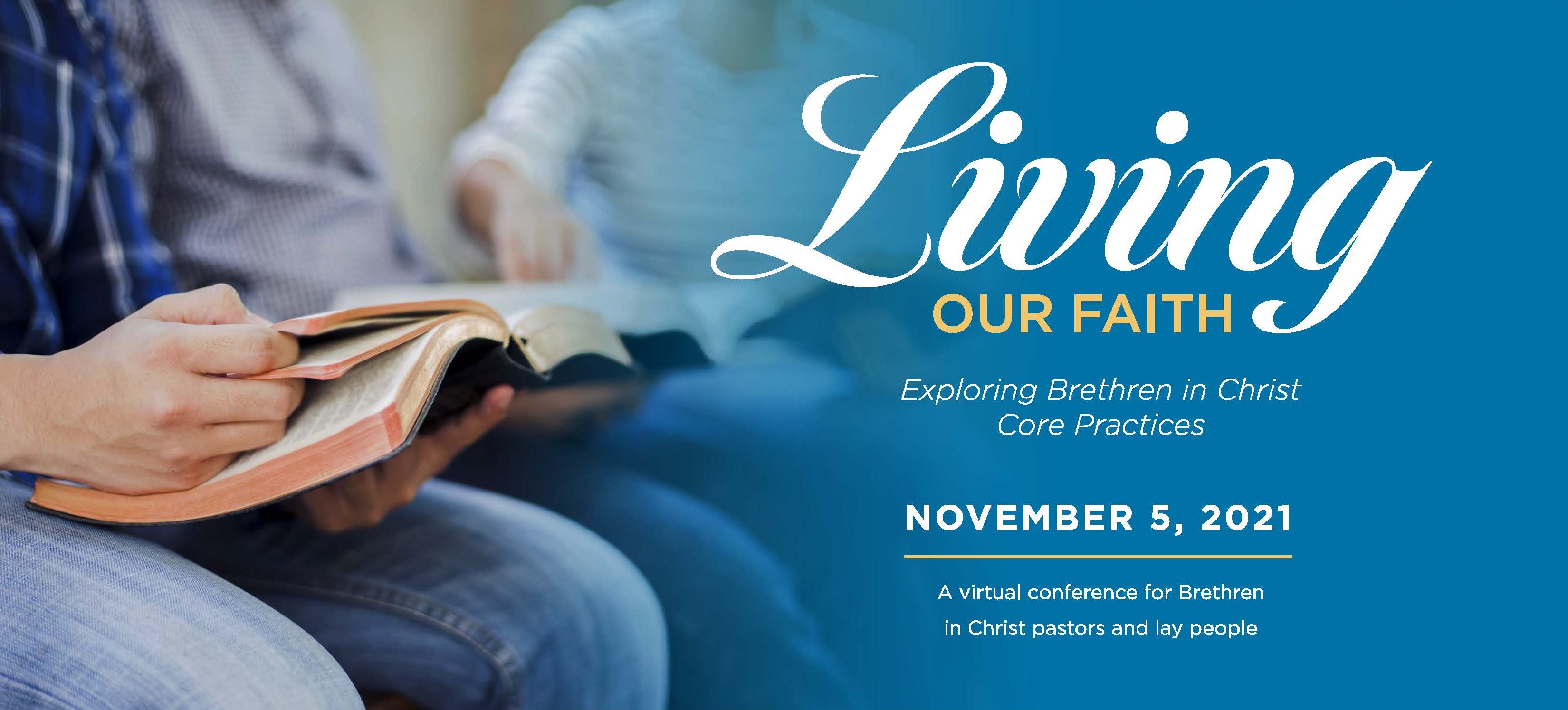 Brethren in Christ Study Conference 2021
The 2021 Brethren in Christ study conference was held virtually on November 5, 2021.
It focused on the theme "Living Our Faith: Exploring Brethren in Christ Core Practices."
About This Year's Conference
This study conference explored the importance of core practices for the Brethren in Christ. It encouraged leaders and laypeople to consider such questions as:
What is the theological importance of habit, and what is habit's role in Christian discipleship?
What habits and "core practices" of Christian faithfulness have characterized the Brethren in Christ Church in the past?
What contemporary habits and "core practices" characterize Brethren in Christ congregations today?
What might it look like to articulate a set of Brethren in Christ core practices?
Note: Due to the COVID-19 pandemic, and out of an abundance of caution and concern for the safety of our community, this year's study conference will be held online via Zoom.
Major Conference Sessions and Speakers
Dr. J. Robert Douglass • Senior Pastor, Dillsburg (Pa.) BIC
This session provided a theological framework for our examination and exploration of Brethren in Christ core practices by offering a "theology of habit." It considered how our habits, routines and other embodied activities shape our hearts and offer transformative possibilities in making Christian disciples.
Dr. John R. Yeatts • Professor Emeritus, Messiah University & Pastor Emeritus, Grantham (Pa.) Church
This session examined Brethren in Christ history to identify the practices that historically shaped us as a church community, from plain dress to love feasts and more. It showed how core practices have long been part of our heritage, and have changed over time.
In this session, panelists shared a "core practice" used in their congregation and how it helped shape Christian disciples. These living examples helped us to imagine what a list of Brethren in Christ core practices might look like.
As part of the "Project 250" initiative leading up to our sestercentennial denominational anniversary, Brethren in Christ U.S. leaders have committed articulating "core practices" as part of our shared commitment to "reaffirming our identity as a community of Christ followers." In this session, several speakers anticipated this process by answering the question, "What should we be thinking about when it comes to discerning and naming core practices as Brethren in Christ?" They offered inspiration and wise counsel to church leaders seeking to fulfill our 2028 vision.