Nutrition & Allergies
Welcome to the Dining Services Nutrition & Allergies Information Page! We are excited to introduce NetNutrition® to assist you with nutritional data. NetNutrition® is a program designed to:
View daily menus
Identify and select well-balanced meals
View the nutritional content and ingredients of your selections
Filter out foods containing allergens and/or intolerances
Food Allergy Notice
Foods labeled as "Gluten-Free" have been prepared with gluten-free ingredients. Please be advised that this restaurant is not a gluten-free facility. Products may contain trace amounts of gluten.
You are always welcome to stop by the Dining Services Office or email us with any nutritional concerns. Questions? Please email dining@messiah.edu.
Find food allergens/intolerances listed on the left side of the page
Check the box next to the food allergens/intolerances you wish to avoid
Items containing these checked boxes will be deleted from your menu choices
Select your desired preference
Only foods that meet your selected preference will appear in the menu
Select the date and menu
Click on the box next to the food items you wish to eat, along with the number of portions
Select "Add Items"
As you add items to your meal, they will appear in the upper left-hand portion of the page under "My Meal"
You may review nutritional information by the meal or by individual item
The information found in this website can be used to help make a choice that fits your dietary needs. However, it is not intended to be used for the diagnosis or treatment of a health issue or as a substitute for consulting a licensed health professional.
Messiah University Dining Services takes every precaution to check ingredient information and to ensure that cross contamination of ingredients does not occur. We do not have allergen-free facilities and serving lines. Ingredients and nutritional content may vary due to manufacturers changing their product formulation or consistency without our knowledge, as well as, the fluctuation of product availability. While we make every effort to identify nutrition data and allergen information, we cannot assure against these contingencies. It is also important to keep in mind that our fryers are used for all fried food products causing these products to not be considered allergen-free.
It is the responsibility of the customer with food allergies or other specified nutritional concerns to make the final judgment on whether or not to question the ingredients of a food item or to choose to eat the foods selected. Guests are encouraged to consider the information provided, to their own satisfaction, in light of their individual needs and requirements. Messiah University will not assume any liability for adverse reactions to foods consumed, or items with which one may come into contact while eating at any Messiah University Dining Services locations. For individualized assistance please contact the nutritionist by emailing McKenna Welshans, MBA, RD, LD, ACSM-EP, CSCS.
Healthy Eating in College - Yes, it can be done!
We want you to stay healthy during your college years. Eating right is an important step. Here are some tips!
NetNutrition® provides nutrition data for the foods we serve on campus
Focus on nutrient dense foods such as fruits, vegetables and whole grains
Keep portion size in mind and make half your plate fruits and vegetables
Drink water or unsweetened beverages instead of high empty calorie sugar-sweetened beverages
Check out the USDA's Dietary Guidelines
Review these helpful handouts
The Culinary Team at Messiah University takes great care to provide healthy, balanced eating options in all our dining facilities. Make the choices that best work for you! Please click on the topics below to read more about how we can assist you with your dining experience at Messiah University.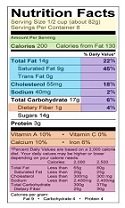 Click the above to learn more about reading and understanding the nutrition fact labels
Messiah University Dining Services endeavors to identify and label all known ingredients which are considered common allergens. Messiah University Dining Services provides training to our staff regarding food allergens, the risks associated with them, labeling protocol and appropriate handling procedures of these items. Our Executive Chef, Production Manager, Dietitian and many of our cooks recently completed the AllerTrain™U course.  This training provides a clearer understand of food allergies, intolerances and sensitivities, celiac disease and other special dietary needs of college and university students. 
Even with training, however, there is always a risk of contamination with a known allergen in a food production environment. Additionally, suppliers and manufacturers may substitute or modify products at any time, without notifying us. It is the responsibility of the customer with a food allergy(s) or specific nutritional concern(s) to make the final judgment if a food item is appropriate for him/her to consume.
To better serve our guests with food allergies we strongly encourage those with concerns to self-identify as having food allergies and/or specific health related dietary restrictions.  We also recommend meeting with our dietitian and management team to review our protocols and available options to meet his/her specific need. We currently work with many guests with allergies and/or specific nutritional concerns and look forward to continuing to do so.
Students with specific nutrition concerns or medically restricted diets should arrange a meeting with our registered dietitian nutritionist, McKenna Welshans, MBA, RD, LD, ACSM-EP, CSCS, by emailing mwelshens@messiah.edu.
If you have been diagnosed with celiac disease and require a gluten-free diet, please contact our nutritionist.  Gluten-free meal options are available at all restaurants on campus. Gluten-free options in Lottie Nelson Dining Hall include the Stir-Fry food station and specially prepared entrees and sides.  Selections of gluten-free items in Lottie Nelson Dining are located in the refrigerator next to the Stir-Fry station.
Additional gluten-free and allergen-free items are reserved for those students with documented allergies.  Please discuss this with our nutritionist, McKenna Welshans at mwelshans@messiah.edu.
You may order an allergen-free meal online via email.  Only requests from students who have met with our Nutritionist will be approved.
Messiah University Dining Services does not have a designated allergen-free or gluten-free kitchen, but our staff has the equipment and training to minimize cross-contact.  With the proper notice, we can prepare allergen-free meals using designated equipment.  Our staff starts preparing for upcoming meals hours in advance.  In order for us to ensure that we can dedicate the proper diligence to preparing your gluten-free meal/allergen-free meal, we ask that requests be made by 9:30am for lunch and by 2:30pm for dinner.
We strive to have all of the ingredients for these meals available at all times, but availability may be affected by unusually high demand or vendor delivery options.
Messiah University Dining Services is working to have all of our nutritional information available online.  As each recipe and ingredient must be analyzed individually, not all options may be available online.
NetNutrition® offers the ease of making nutritional choices based on your specific needs.  From allergens to preferences, NetNutrition® is a handy tool when selecting your meals.
The following website offers helpful nutritional analysis of food items/recipes:  www.choosemyplate.gov
We have compiled a list of Health & Nutrition Websites for your reference.
On-campus nutrition services are available to students at the Engle Health Center.  To schedule an appointment to meet with our registered dietitian nutritionist, please email McKenna Welshans or call the Engle Health Center at (717) 766-2511, ext. 6035.
Information on Nutrition & Allergy Information