Messiah University Board of Trustees
The Messiah University Board of Trustees is a national board comprised of highly engaged alumni, current and former Messiah parents, community and faith leaders and other University friends. Standing meetings of the board are scheduled for three times each year in January, May and October. The charge given to our board of trustees includes:
To appoint, support, nurture and evaluate the president of the University
To establish and maintain the University's purpose and mission
To provide oversight of the educational programs and services offered by the University
To approve long-range plans
To ensure strong financial management and adequate financial resources
To interpret the needs of society and the Church to the campus
To interpret the mission of the campus to the Church and community
To assess its own performance through routine evaluation
Messiah University has been blessed with a heritage of board members who are extraordinary supporters of our mission. The trustees play a vital role in the success of our students, faculty, and campus as a whole, and we are very grateful for their personal and professional contributions.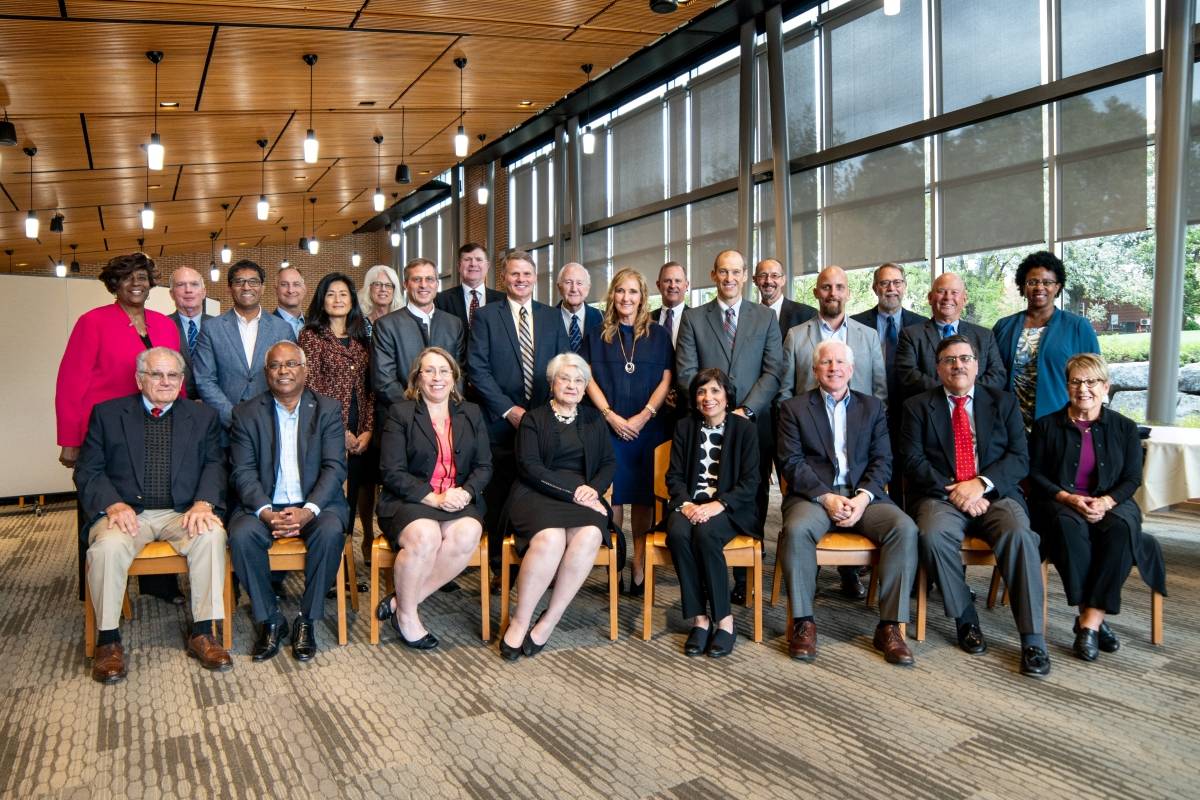 Board of Truestees, Fall 2019
Not pictured: Alan Robinson, Kimberly Thornbury
Mr. George A. Parmer, Chair
Harrisburg, PA
Dr. Jerry L. Wenger, Vice Chair
Bird In Hand, PA
Mr. Tony J. Schiano, Treasurer
Duck, NC
Mrs. Heidi G. Bingaman, Secretary ('81)
Kreamer, PA
Dr. Craig E. Sider, Chair-Elect
Philadelphia, PA
Mrs. Barbara A. Avery
Safety Harbor, FL
Hon. Sherrie Bailey
Towson, MD
Mr. Larry Bashore
Mechanicsburg, PA
Ms. Wendy L. Cole
Winfield, PA
Ms. Linda D. Eremita
Pittsburgh, PA
Mr. Richard L. Godshall
Souderton, PA
Mr. Anthony H. Hahn ('93)
East Earl, PA
Mr. Scott Heintzelman ('89)
Mechanicsburg, PA
Dr. Joachim J. Huerter
Annville, PA
Mr. Richard E. Jordan II ('70)
Mechanicsburg, PA
Mr. J. Gary Langmuir
Manheim, PA
Mr. Garret Larsen ('00)
Livingston, TX
Dr. Emerson L. Lesher ('74)
Mechanicsburg, PA
Mr. James A. Martin
Chambersburg, PA
Mr. David Millary ('88)
Dillsburg, PA
Mr. Kenneth V. Moreland
West Friendship, MD
Dr. Barbara G. Moses
Charlotte, NC
Mr. Rodney L. Musser ('83)
Pomona, CA
Mr. Edward P. Nevin
Finksburg, MD
Mrs. Linda R. Pheasant
Wormleysburg, PA
Dr. Alan Robinson
Dillsburg, PA
Mr. Andrew Samuel ('84)
Lititz, PA
Mrs. Eunice F. Steinbrecher (MA '58)
Lancaster, PA
Dr. Kimberly Thornbury ('93)
New York, NY
Mr. John C. Wagner, Jr.
Phoenix, MD
Messiah University Bylaws