Master of Science in Nursing Degree (MSN)
---
MSN Degrees Offered at Messiah University
Three MSN Degree Program Offerings:
Messiah's MSN degree programs are designed to provide you with the knowledge and skills necessary to become a leader in the nursing field. You will gain a deep understanding of the latest healthcare developments, hone your critical thinking skills, and develop a strong foundation in the ethical and Christian principles of nursing. Our MSN is a nationally ranked program designed for busy nursing professionals. Coursework is online and graduates will be prepared to lead and teach in a variety of clinical and educational settings.
TRACK

ONLINE
Messiah University's master's in nursing program will help prepare you to take the National League for Nursing (NLN) Certified Nurse Educator examination after meeting the practice requirement for eligibility. Our MSN degree program additionally provides a strong foundation should you choose to pursue doctoral study. It has been ranked by U.S. News & World Report as a 2019 Best Graduate School in the Nursing Master's category.
Read more
---
Nursing Administration
MSN
TRACK

ONLINE
Messiah University's master's in nursing administration program will help you grow as a professional who leads through ethical decision making, critical thinking, developing effective teams and building professional collaborations in your field. In partnership with our MBA program, this degree track brings together cutting-edge nursing science and practice with executive management skills.
Read more
---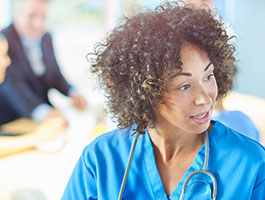 Dual Degree–Nursing Administration
MSN MBA
TRACK

ONLINE
With our robust and relevant MSN MBA coursework, you will develop the skills necessary to operate effectively as a leader in a number of executive healthcare roles. Graduates of the MSN MBA dual degree will be uniquely qualified to advocate for healthcare quality from both the patient and administrative perspectives.
Read more