The Annual Fund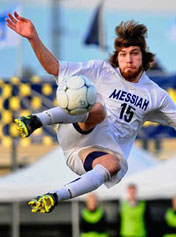 The Messiah College Annual Fund provides critical resources that help to offset the rising costs associated with higher education. Gifts to the Messiah Annual Fund help Messiah to offer a margin of excellence that sets a Messiah education apart from other institutions. From scholarship aid and support of academic programs, to
"The generosity of donors has allowed me to experience wonderful professors, establish lifelong friendships, and further my personal relationship with Jesus Christ. I am grateful for those who have made the decision to give to the College, helping students like me afford a great education."
--Jenna Raup
Class of 2013
Nursing Major
widespread study abroad opportunities and funding for missions and service trips, the Annual Fund helps to make every facet of a Messiah education possible for our students.
Because tuition does not cover the entire cost of educating our students, we rely on the Annual Fund to provide more than $1 million per year to help us provide the transformative experience our students seek and deserve.
Gifts to the Annual Fund can also multiply in indirect ways when a significant number of alumni participate. Foundations and corporations consider alumni participation a fundamental indicator of institutional strength, and they often base their funding and grant decisions on this important metric.
The Messiah College Centennial Campaign offers the opportunity for those who support the Annual Fund to be counted among campaign contributors. Whether gifts are large or small, together, they have the capacity to make a world of difference for our students, who in turn make a difference in the world.