Events for Mar 1st, 2015 - Mar 31st, 2015
Showing 1 to 5 of 32 events.
Alternate Chapel - Innovation
Date: March 2nd, 2015
Location: Frey Hall 110
Time: 18:00 - 19:00
Cost:
Dr. Michael Zigarelli, Professor of Leadership and Strategy at Messiah College, will discuss the importance of innovation in the creation of a vision and how, through innovation, we can better accomplish our vision.
Alternate Chapel - Half the Sky
Date: March 3rd, 2015
Location: Kline Hall of Science 120
Time: 19:00 - 20:45
Cost: Free
The International Justice Mission as part of the Human Rights Awareness coalition will be showing segments of the "Half the Sky" documentary. As part of women's history month, the document explores one of the larges issues facing the world day, namely - the exploitation of women. Professor John Harles of the Politics department will be facilitating a discussion and Q/A segment shortly following the showing of the documentary, emphasizing how we as Christians should respond to this issue through prayer, conversation, and active engagement.
Common Chapel - Spirituality of Lent - Heather Strong-Moore
Date: March 3rd, 2015
Location: Brubaker Auditorium
Time: 09:45 - 10:30
Cost: Free
Heather Strong-Moore is the Partnership Coordinator for Northwestern PA for the Coalition for Christian Outreach.
The CCO calls college students to serve Jesus Christ with their entire lives. Our ministry is distinct in three ways:
We develop students to be passionate leaders who serve Jesus Christ in their studies, jobs, communities and families.
We serve together with the church, inviting students into the lives of local congregations.
We design each ministry to fit the needs of every campus we serve.
Our Core Values
All things belong to God.
Jesus changes people's lives.
We love college students.
Faithfulness is pursued together.
We celebrate life.
Our Core Purpose
Transforming college students to transform the world.
For more information on The Coalition for Christian Outreach, visit www.ccojubilee.org .

Common Chapel - Brian Smith, Teaching Pastor and Chair of the Biblical and Religious Studies Department
Date: March 5th, 2015
Location: Brubaker Auditorium
Time: 09:45 - 10:30
Cost: Free
Brian's position brings the curricular and co-curricular sides of campus together; as a faculty member in the Department of Biblical and Religious Studies, he teaches courses in Old Testament, Hebrew, and biblical interpretation. As teaching pastor, he preaches regularly in chapel and helps coordinate chapel programming.
Brian's research interests stretch from ancient Mesopotamia to faith development among 21st century college students. Watching students engage ancient Israel and the New Testament through the lens of their own developing faith motivates him to continually wonder at the roles of the Bible, tradition, and experience in present-day spirituality.
Accepted Student Preview Day - School of Business, Education and Social Sciences
Date: March 6th, 2015
Location: Calvin and Janet High Center for Worship and Performing Arts
Cost: Free
You and your family are invited to spend a day at Messiah College. Check-in for all preview days is at 8 a.m. in the main lobby of the Calvin and Janet High Center for Worship and Performing Arts. The opening session will begin at 9 a.m. in Parmer Hall located in the High Center.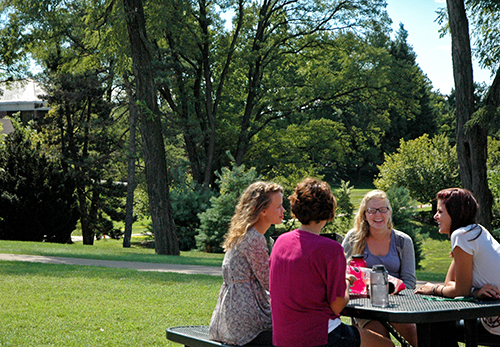 Discover for yourself why approximately 2,800 young men and women have chosen Messiah College. Plan now to visit our campus in Grantham, Pa. just ten miles south of Harrisburg, for one of the accepted student preview dates listed.
The noon meal will be provided FREE to registered guests. Other highlights include campus tours and information sessions on admissions policies, financial aid, academic programs and campus life.
This Preview Day is for accepted students interested in the following majors:
Accounting
Business Administration
Criminal Justice
Economics
Economic Development
Education with Teaching Certification in Grades PreK-4
Education with Dual Teaching Certification in Grades PreK-4 and Special Education (PreK-8)
Education with Middle Level Grades 4-8
Ethnic and Area Studies
Family & Consumer Sciences Education*
Human Development & Family Science
International Business
Marketing
Psychology
Social Work
Sociology and Anthropology
*Students interested in a teaching certification in a specific major should attend the School that contains that primary major.