Events for Nov 1st, 2014 - Nov 30th, 2014
Showing 1 to 5 of 16 events.
Jadu 101 training
Date: November 4th, 2014
Location: Frey 145
Cost: Free
Jadu CMS training is offered for all those on campus who have a Jadu website and want to learn the basics of editing your site.
This training session will cover navigating around Jadu Content Management System, learning about homepages and document pages and how to edit them.
Mission Awareness Day - Leroy Barber
Date: November 4th, 2014
Location: Brubaker Auditorium
Cost: Free
Leroy Barber of Word Made Flesh, has dedicated more than 20 years to eradicating poverty, confronting homelessness, restoring local neighborhoods, healing racism, and living what Dr. King called "the beloved community."
Leroy starts projects that shape society; in 1989, burdened by the plight of Philadelphia's homeless, he and his wife Donna founded Restoration Ministries, to serve homeless families and children living on the streets. In 1994 he became Director of Internship Programs at Cornerstone Christian Academy. Leroy was licensed and ordained at Mt Zion Baptist Church where he served as Youth Director with Donna, and also served as Associate Minister of Evangelism. In 1997, he joined FCS Urban Ministries, working with Atlanta Youth Project to serve as the founding Executive Director of Atlanta Youth Academies, a private elementary school providing quality Christian education for low-income families in the inner city. Leroy also helped found DOOR Atlanta and Community Grounds Coffee shop in Atlanta.
Leroy is currently the Global Executive Director of Word Made Flesh, an international organization that works among the most vulnerable of the world's poor. Rev. Barber is on the boards of Mission Year and the Christian Community Development Association (CCDA). He is the author of New Neighbor: An Invitation to Join Beloved Community, and Everyday Missions: How Ordinary People Can Change the World and was also chosen as a contributor to Tending to Eden, and the groundbreaking book UnChristian: What a New Generation Thinks About Christianity and Why It Matters. His third book, Red, Brown, Yellow, Black and White: Who's More Precious In God's Sight?, will be published this fall.
Leroy has been married to Donna for the past 28 years and together they have three adult children – Jessica, Joshua, and Joel, and two adopted children – Asha and Jonathan.
More information can be found at http://wordmadeflesh.org/about/global-executive-director/.

Elective Chapels
Date: November 6th, 2014
Location: Varies
Cost: Free
KAIROS
Contemporary worship and teaching led by student chaplains. Meets in Brubaker Auditorium.
SALT & LIGHT
What value does salt have if it has lost its flavor? What purpose is light if it cannot be seen? In Matthew 5:13-16, Jesus proclaims that his followers are to be visible, set-apart people in the world. Salt and Light chapel seeks to explore how we are to follow this teaching in our lives. Through the witness of faithful followers of Christ throughout the world and the encouragement of one another we hope to better understand and better enact what it truly means to live as Jesus lived, to see the world through the eyes of God. Meets in Hostetter Sanctuary.
LOGOS
The New Testament word Logos represents God's communication to humanity in text, speech, and person. The Logos chapel series features excellent music and relevant preaching focused on God's Word to us. Meets in Parmer Cinema (Boyer).
Fall Open House
Date: November 10th, 2014
Location: Calvin and Janet High Center for Worship and Performing Arts
Cost: Free
Resources: Open House Schedule | Info Session Schedule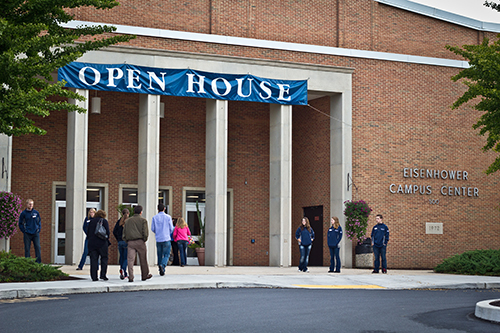 You and your family are invited to spend a day at Messiah College. Check-in for all open house days is at 8 a.m. in the main lobby of the Calvin and Janet High Center for Worship and Performing Arts.
Discover for yourself why approximately 2,800 young men and women have chosen Messiah College. Plan now to visit our campus in Grantham, Pa. just ten miles south of Harrisburg, for one of the open house days listed above.
The noon meal will be provided FREE to registered guests. Other highlights include campus tours and information sessions on admissions policies, financial aid, academic programs and campus life.
Brian Smith
Date: November 11th, 2014
Location: Brubaker Auditorium
Cost: Free